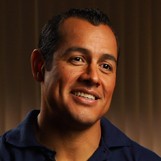 Oz Sanchez is a devoted athlete, spokesperson, and highly inspirational motivational speaker. After a spinal cord injury that resulted in paralysis and neurological complications, given his new physical parameter — he had to redefine himself. So he began proactively competing in the adaptive sports of hand cycling and Triathlon, and worked his way to the top in both sports in relative short time. Today Oz is a double world champion in the sport of hand cycling under the Paralympic umbrella.
His amazing story of perseverance led to a motivational speaking career which flourished after he agreed to be an official spokesperson for the Challenged Athlete's Foundation. Today, he provides inspirational keynotes to numerous organizations nationally as well as internationally.
To check fees and availability on Oz Sanchez call Eagles Talent Speakers Bureau at 1.800.345.5607.
[bitsontherun uOQzbc8n]

Go ahead … click the Eagle.