Fathers Day is this Sunday! If you are still looking for a gift for dad, John C. Havens has some great ideas. In terms of trends, he's big on the quantified self movement and fitness apps.

Here are three ideas that will whip dad into shape so that he has many more Fathers Days to celebrate:
1) The Fitbit tracks steps, distance, calories burned; monitors sleep cycles. Your dads stats can upload wirelessly to select mobile devices and to his computer. Convince your dad to wear this occasionally in between his range of Rolexes and see how much he appreciates it when the pounds start coming off!
[youtuber youtube='https://www.youtube.com/watch?v=yggn7P4pRUw']
2) Body Media is the leading on-body monitoring system, giving accurate information about the body. The BodyMedia FIT and NBC's The Biggest Loser teamed up to help the contestants lose weight, stay active, and lead a healthier life.

[youtuber youtube='https://www.youtube.com/watch?v=RhyuRtkC5Ms']
3) Jawbone Companion App for Android, can dial dad into conference calls at the press of a button, password and all! When he presses the TALK button, he can hear upcoming calendar events, remaining battery life, and the time.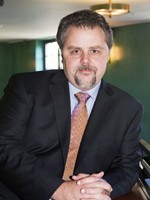 John C. Havens is a futurist, thought-provoking business speaker who explains the importance of utilizing technology to optimize your life in a positive way. He is a contributing writer for Mashable.com, author, and emerging/social media consultant, focuses on leveraging the science of happiness with emerging technology to maximize value.