In honor of Cinco de Mayo, we here at Eagles Talent Speakers Bureau took the opportunity to put together five of our favorite inspirational quotes from cultural diversity and leadership expert Consuelo Castillo Kickbusch, or as she calls them, "Consuelo-isms"!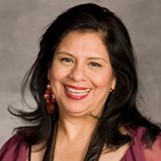 Consuelo is an army veteran and community leader who speaks on how ethics, compassion, service and diversity make a positive impact in our lives. By sharing her own story of financial poverty and rich culture, she inspires the youth of America to lead their best lives.
These Consuelo-isms will give you the tools that you need to understand leadership and promote cultural diversity in the workplace.
#1. "We sometimes think of diversity as us verses them, but everyone has a story. Everyone has had a journey."
#2. "You cannot understand where you're going until you've understood where you have been. When you think no one knows, remember you know; so hold onto that as your measure of ethics."
#3. "Talk less, observe more. Feel more, listen."
#4. "Everyone has had a journey, so part of leadership – if you truly want to lead, is learning to truly listen."
#5. "You think for yourself what it is that you're going to do with what you know is wrong."