Need some help planning your virtual event? Whether this is your first one, or 7th one, we want to make sure that you are well-equipped to take on whatever your company is planning. Get virtual with Eagles Talent!
Our new page is filled with contents to spark ideas for new meeting ideas, help you navigate the virtual world and create valuable content for your audience. 
Finding the right topics or presenters can be challenging — especially if you have never done this before. We have booked presenters for countless events, both in person and virtual. We have industry insight to know which speakers deliver value. In the world where so much is virtual, we also know who can provide an engaging online program. It's truly a different experience for attendees compared to being at an event.
We don't like to think an in-person event is better than a virtual experience … it's different. In some ways, going virtual provides so many more possibilities, from saving on travel and hotel costs, to not having to worry about the speaker's busy travel schedule going from event to event. In addition, you can increase the amount of attendees who can attend, giving your members that much more value. We invite you to explore some of the speakers and topics below.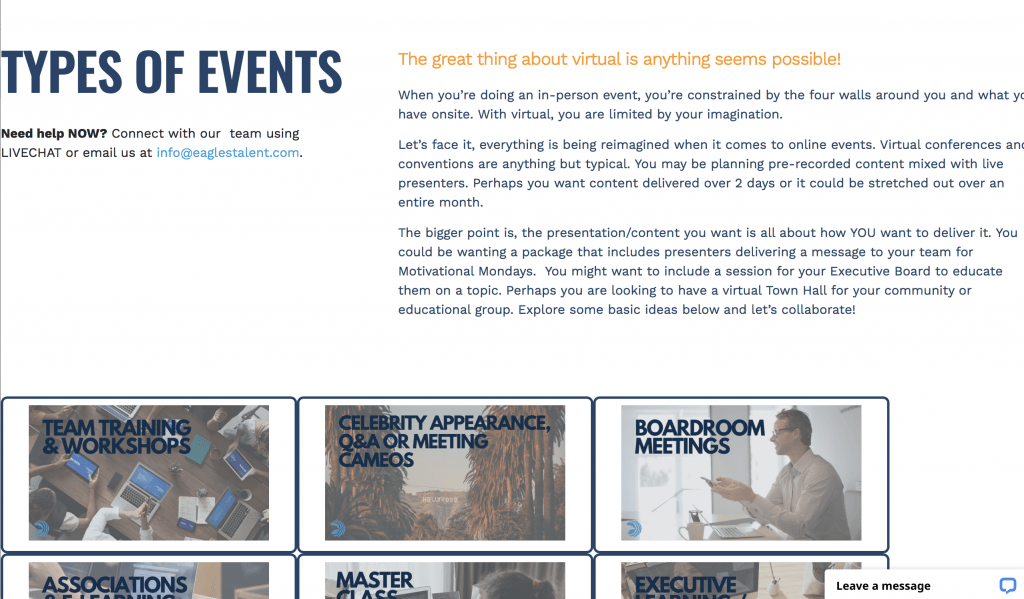 Eagles Talent is your source for the top virtual presenters to help you create a great online event. We love to collaborate with you to provide speakers who are engaging, value driven, and will connect to your attendees. 
Whether you need to stream a keynote to inspire your team, want to hold a town hall for your community, or deep dive into a master class on a particular topic, we can help you turn a virtual idea into reality. Online meetings no longer have to be boring. Instead, they can inspire your team to do better, give them the tools to deal with changes, and help them look to the future by creating innovation. In this section, you'll learn that in the online world, you're only limited by imagination. Explore the many possibilities, from types of online programming to tips and topics that fit your group. Need help NOW? Get virtual with us! Connect with our team using LIVECHAT or email us at [email protected].