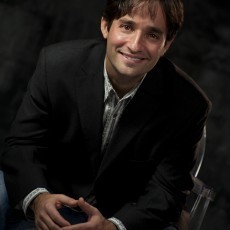 In our personal and professional lives, we're often faced with a problem that has no apparent solution. We reach an impasse where logical, conventional thinking simply isn't cutting it. In these frustrating cases, we have a choice: We can resign ourselves to the insurmountable nature of the challenge, or we can get creative.
Doug Dietz is the lead designer of MRI and CT machines for GE and has been in the field for over 20 years.  He's saved countless lives and made a big impact on healthcare, but he was plagued with a problem. Despite the life-saving nature of his work, kids were scared to death of his monstrous contraptions. It was unusual for a kid not to breakdown in tears before entering, and 80% required sedation in order to undergo a critical diagnostic procedure.
Dietz struggled to make the machine more open and less scary, but major changes to the machine would limit its efficacy.  He hit that roadblock we all face.  But then, he decided it was time to think about the problem in a different way.  Rather than changing the machine itself, he decided to change the way it looked.  He changed the experience for these frightened patients and transformed his intimidating machine into "Pirate Island."
In addition to the design, the hospital staff changed their story. Kids were now going on a sailing adventure, and were told to stay very still to hide from the pirates.  Dietz knew he reached his goal when after a procedure, a 7-year-old girl asked her mom if she could come back tomorrow to ride again.
So often in our own lives, we feel we've hit a brick wall and succumb to obvious choices. Whatever challenges you may be facing, searching for the unconventional alternative can make all the difference. Maybe you can't change your product or service, but you can change the way you tell the story. Maybe you can improve the way you produce or deliver by taking a fresh approach. The important thing is that you take the time to consider all the possibilities, especially the radical ones.
If one side of the puzzle is stuck, moving the other pieces around it can yield tremendous results. When you are stumped, it is a perfect opportunity to unleash your imagination and imagine what 'can be', instead of just what 'is.'
We all get stuck in the mud; it's human nature. So when you get stuck, use the powerful tool of human creativity that is hiding behind your preconceived notions and previous assumptions.  There's almost always a creative way to solve a problem. You just have to have the courage and conviction to find it.
To check fees and availability on Josh Linkner call Eagles Talent Speakers Bureau at 1.800.345.5607.