National Hispanic Heritage Month is every year from September 15 to October 15, it recognizes the contributions made from the Hispanic culture to the United States. The celebratory month started off as a week in 1968, but by 1988 it was officially made into a month. This year the theme is "Honoring our Heritage. Building our Future."
Money is a big part of the world today, and being smart with your money is even more important. The way we handle our finances now, can have either a positive or negative effect on our future.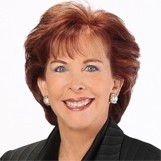 One person who understands this is Terry Savage, she's a nationally recognized expert on personal finance and the economy, author, and a regular blogger at the Huffington Post. After graduating from the University of Michigan, she started her career as a stockbroker. Since then, Terry has continued to make a name for herself in the economics business and has won many awards. Along with this, she is a frequent guest on TV and radio shows to give commentary — her expertise in this has rewarded her with two Emmys. 
Terry is also a fantastic keynote speaker, particularly in high demand for business presentations. This isn't surprising because she focuses on topics like personal finances, global economics and investing techniques.
By sharing her knowledge and tips on economics, Terry is helping people create better futures for themselves — a perfect example of "building our future."
For more information on booking a Hispanic keynote speaker for one of your events, check out www.eaglestalent.com or call our office at 1.800.345.5607.