Today, we conclude National Hispanic Heritage Month with Hispanic keynote speaker Consuelo Castillo Kickbush.
---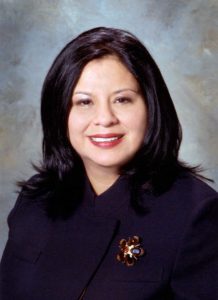 Consuelo has served in the U.S. Army as an officer for two decades. During that time, she broke barriers and set records in the military where she became the highest-ranking Hispanic woman in the Combat Support Field of the U.S. Army. When the time came for Consuelo to assume a command post, Consuelo had to decline the opportunity in order to honor her mother's wish, which was to return back to her roots and become a community leader. In 1996, Consuelo founded the human development company, called Educational Achievement Services, Inc. (EAS, Inc.) Consuelo Castillo Kickbusch is dedicated to molding the minds of the youth in a positive and powerful way. She has been recognized for her efforts and has received numerous awards and citations from educational institutions, government agencies, professional organizations, as well as the national media.
In addition to all that she has done, Consuelo has been gracious enough to share her story with audiences around the globe and as such an influential speaker, there's no stopping her mission to empower the next generation of leaders.
---
For more information on booking Consuelo Castillo Kickbush: 
check out www.eaglestalent.com or call our office at 1.800.345.5607.
---
Subscribe to our blog
Stay up to date on all the latest news at Eagles Talent
By continuing to browse, you consent to our use of cookies. To know more, please view our
Privacy Policy.
Hide