Branding Expert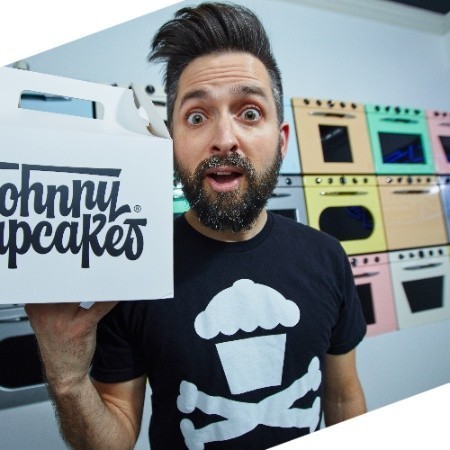 and Keynote Speaker Johnny Earle's entrepreneurial spirit can be traced back to his early childhood days. Yard sales and lemonade stands were just the start of a successful career in business. Before he was even able to drive, Johnny had sixteen different businesses under his belt. The thrill of understanding the complexities of a new project and the constant desire to solve puzzles followed him into adulthood and furthered Johnny's appetite for success.
"Growing up I had a bizarre fantasy of becoming a real life Santa Claus, but in the retail world."
How to Reinvent Your Brand
The global phenomenon Johnny Cupcakes was birthed when Johnny, who'd received the nickname from coworkers, decided to mock up t-shirts promoting the fake bakery as both a prank and social experiment. The shirts stirred up curiosity among those who saw them and created conversation among the brand's first customers. Inspired by an outpour of inquiries from strangers wanting to know where and how they could get their hands on a Johnny Cupcakes t-shirt, Johnny began selling his shirts with the brand's now famous cupcakes-and-crossbones logo out of suitcases while on tour with his band. After a couple years of touring, he made the executive decision to leave both his full-time job and his band to dedicate all of his time and effort to the Johnny Cupcakes brand.
"I chose to take a very scary leap into the apparel world, but I was excited to venture off into the unknown."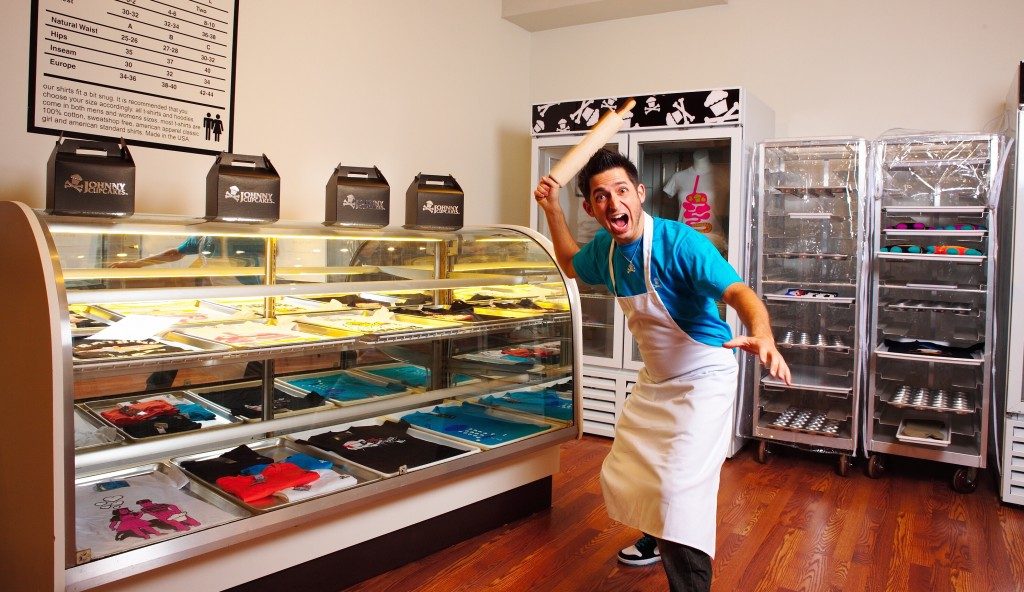 When the first Johnny Cupcakes store officially opened its doors to the public in 2005,
most of the brand's marketing and advertising budget had been put towards the flagship store's interior decor. Rather than putting money into traditional ads to promote the brand, Johnny utilized his resources to create a one-of-a-kind experience that would in-turn produce word-of-mouth marketing.
Presentation and packaging were a large reason for the store's immediate success, with lines of loyal customers and Johnny Cupcakes newcomers wrapped around the block to catch a glimpse of the world's first t-shirt bakery. From the vintage refrigerators that store Johnny Cupcakes merchandise to the inviting and nostalgic scent of vanilla frosting that greets you at the door, it was the brand's dedication and commitment to creating memorable experiences that kept and still keeps loyal customers returning and new customers intrigued.
Nowadays, Johnny Cupcakes shirts are some of the most exclusive and sought after collectible items in the retail world. In recent years, Johnny has taken his unique designs to the next level by partnering with several iconic pop-culture figures and brands of the past century. The Simpsons, Hello Kitty, Warner Brothers, and even Marilyn Monroe's estate have all collaborated with the brand and are featured on a multitude of Johnny Cupcakes t-shirts. In the corporate world, Johnny believes that collaboration and brand partnership can act as a key influencer in the successful reinvention of a company's brand.
"I think collaboration is important with every type of business because you can put your resources and creative thinking together and trade customers that you can have for the rest of your life."
Along with collaboration and customer loyalty, Johnny believes a company can undeniably benefit from infusing their personality into their brand. His own personality and love for all things fun and engaging, can be seen all over the Johnny Cupcakes brand and is attributed to much of his success. As a self-described "consumer that yearns for excitement," Johnny understands, from a customer's perspective, the importance of a brand's personal touch. These are just a few of the lessons he shares with corporate audiences around the world through his speaking engagements.
"When I speak to companies and organizations, I really challenge the audience to think a little bit more creatively and to get brand loyalty by being loyal to their brand and loyal to their customers."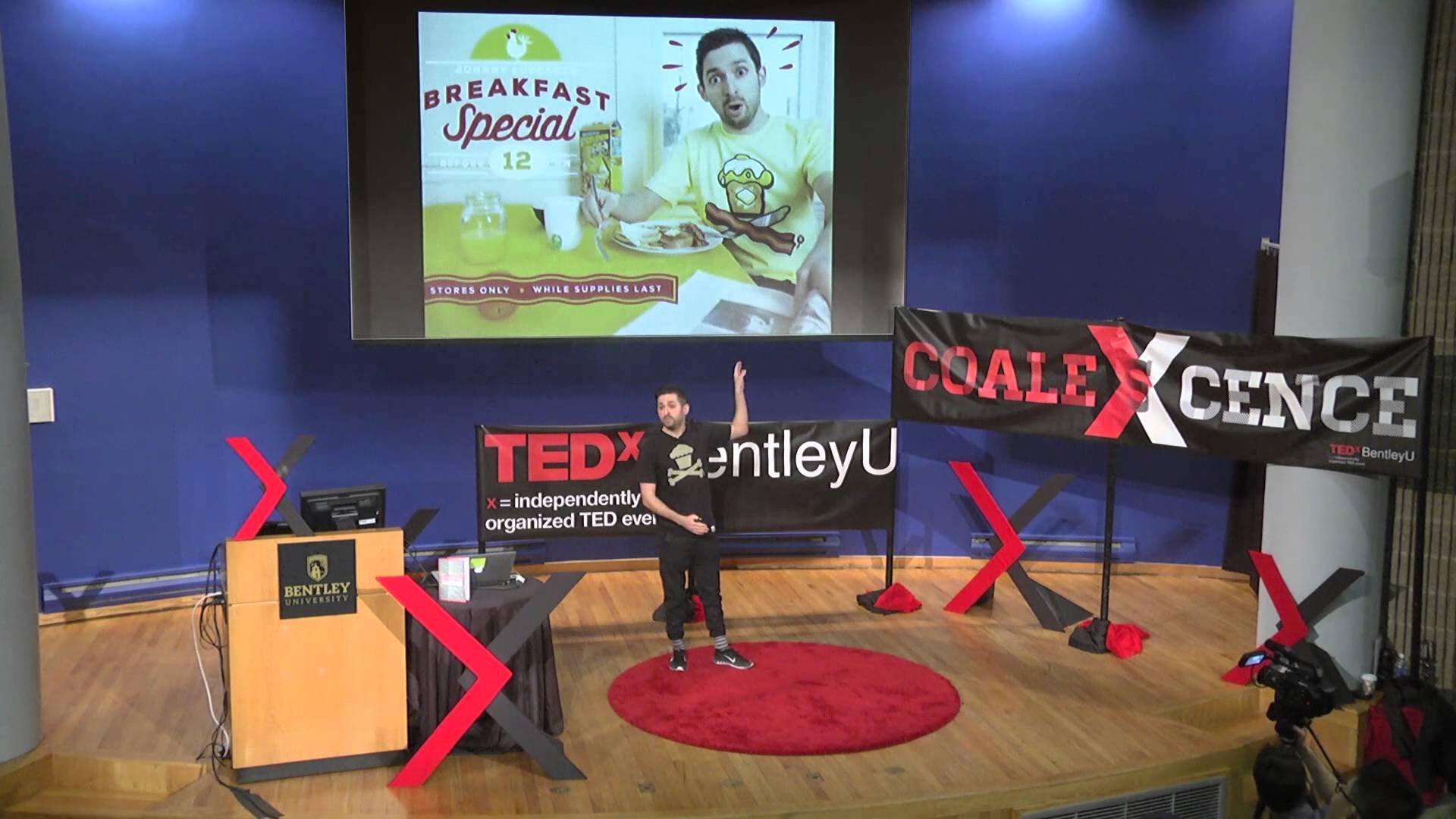 As a keynote speaker, Johnny shares his secret recipe for viral business and marketing success through his high impact speeches. If you want to inspire cult-like brand loyalty, the kind that involves mile long queues and permanent tattoos, Johnny Earle is your speaker!
Watch the full interview below to find out more about the rise of cult-sensation and global phenomenon Johnny Cupcakes, and to learn how you can start, grow, and learn how to reinvent your brand and business with Johnny Earle!
---
For more information on How to Reinvent Your Brand, visit eaglestalent.com or call 1.800.345.5607
---
You can subscribe and listen to all of our podcasts on iTunes by clicking here.