Every day there seems to be a new social media platform that pops up on the market. While it might become a hassle trying to keep up with the newest and latest technology, companies are now finding a way to use these new emerging markets to their advantage.
As you know, marketing is vital to the success of a company. This is where technology comes in. Digital marketing, which is fairly not new to the playing field, is becoming one of the main channels where companies are branding themselves.
Twitter
Take Twitter for example. When Twitter first came on the market, companies found themselves in a tizzy coming up with ways to utilize their image in 140 characters or less. Now, Twitter appeals to the average person with a short attention span. Twitter forces companies to get directly to the point and challenges them to come up with more content in less words.
Instagram
If you're a visual based organization, this is the perfect app for you. Instagram gives audiences a unique look behind the scenes at the company. Whether it's fancy events, large conventions, or even your italicized name on a Starbucks drink, Instagram is changing the way we view pictures. 
Facebook
Facebook is perhaps the most popular of all the social media platforms. Organization-friendly, Facebook allows users to establish a company page, complete with a mission statement and updates to your company to keep audiences interested in your brand. On Facebook, customers also have the option to leave reviews about your establishment, which offers perspective customers insight into how your business operates and the testimonies that arise from it.
Pinterest
Fairly new to the market, Pinterest is a virtual pin board that allows you to create various boards and "pin" your interests and creative ideas all collectively in one place. The unique aspect about Pinterest is that images lead back to the original site which, in turn, could be used as a tool to drive traffic back to your website. Seems like something your company needs? Then Pinterest is the place for you.
Tumblr
Tumblr is revolutionizing the way people post blogs. With the unique ability to "reblog" items, content spreads rapidly through the internet through interblog sharing which allows your material to reach wider audiences.
So now that we've broke down some of the most popular social media sites, here is a keynote speaker that can help you utilize your multiple platforms to further grow your company: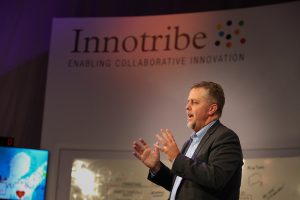 John C. Havens is a nationally renown technology expert who shares his unique research to give organizations insight about utilizing technology to further grow your organization. Building upon pratical solutions, John's objective is to help organizations all over the globe apply media strategies to maximize your company's happiness.
If you are ready to start searching for your next speaker for an up and coming event, Contact Eagles Talent Speakers Bureau today.