Chef Missy Chase Lapine, a.k.a. "The Sneaky Chef," is known for crafting delicious recipes that are secretly healthy for you! Her New York Times bestseller, The Sneaky Chef: Simple Strategies for Hiding Healthy Foods in Kids' Favorite Meals (2017), has advised parents on how to implement healthy eating habits into their children's diets while avoiding the fuss.
Below is a taste of one of her healthy summer snacks: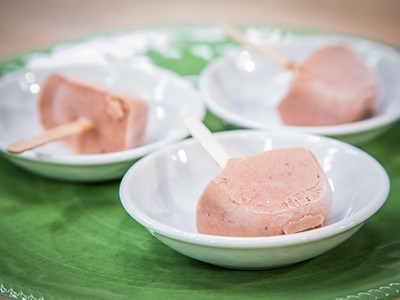 Extra Sneaky Strawberry Breakfast Ice Cream
At first glance, I'm sure you're thinking "Ice cream for breakfast? Where's the healthiness in this?" Which is exactly what the Sneaky Chef wants you and your kids to think! However, these two-minute recipes are packed with nutritious ingredients, as you'll see below. (Makes 2 servings)
Ingredients: 
¼ ripe avocado
½ cup frozen strawberries, without syrup or added sweeteners
2 tablespoons plain Greek yogurt
1 tablespoon honey or sugar
Directions: 
Put all ingredients in food processor and puree on high — hold on tight. The first few seconds are a bit rough until the mixture smoothes out.
Each makes about 1½ cups of ice cream.
Another sneaky hint: Make popsicles out of these ice creams by pouring them into ice pop molds and freezing the night before. It's double the fun to eat it this way in the morning!
*In addition, these recipes can be quickly converted to a thinner smoothie by adding an extra ½ cup of milk to all the variations above and then mixing them in the blender. *
---
Missy Chase Lapine makes the connection between what you eat, how you feel, and disease and obesity prevention in her keynote presentations. Let her help you sneak in the world's healthiest foods into your everyday life.
For more information on booking health and wellness speakers, check out www.eaglestalent.com or call our office at 1.800.345.5607.