You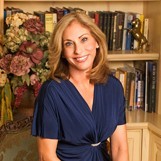 don't have to travel to the Mediterranean to experience their amazing food! Luckily, Dr. Janet Brill has the perfect recipe in order of International Mediterranean month to bring treasures of the Mediterranean to your very own kitchen. 
Roasted Tomato Walnut Pesto Salmon:
Ingredients:
Yield: 2 servings (1 serving = 4 oz fillet)
2-4 oz salmon fillets
2 Tablespoons of walnut pesto
2-3 slices of tomato
1 tsp of dried basil (or fresh minced basil)
¼ tsp of black pepper
Heart Healthy Walnut Pesto:
2 oz fresh basil leaves (about 1 cup)
1 cup walnut halves
½ cup olive oil
3 large garlic cloves
Directions:
Pre-heat oven to 400 º F. Grease a tin pan with olive oil spray. Place all pesto ingredients into a food processor and blend pesto until a spreadable consistency. Place salmon fillets in the pan and cover each fillet with 1 Tablespoons of pesto. Top salmon with tomato slices and sprinkle with dried basil and black pepper. Bake salmon until opaque in the center, about 20-25 minutes.
Dr. Brill is a nationally recognized expert in the field of health, wellness and cardiovascular disease prevention. She is frequently sought after by the media as a trusted source of nutrition and fitness information.