Thanksgiving is less than a week away! The holiday is all about giving thanks, and sharing in a feast of food with family and friends. Celebrity chefs will probably be busy preparing their meals for their family that day… but that doesn't mean you can't have them at your event on another day! We have a wide variety of chefs who address topics like nutrition, health & wellness, and even parenting.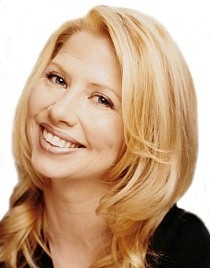 Celebrity chef Jeanne Benedict is an author, chef and former host on DIY Network's Weekend Entertaining. She is known for her party hosting skills and delicious recipes. In addition to this, Jeanne is a keynote speaker who discusses topics including life balance, relationships and food hospitality.
Did you know that today is also National Apple Cider Day? Check out this Caramel Apple Champagne Sparkler recipe, from Jeanne's website:
Caramel-infused cider mixed with some bubbly Brut composes this simple yet elegant cocktail. On the rim of this cocktail's flute is a mini salty caramel Christmas tree.
1 quart apple cider
½ cup caramels, plus caramels for Christmas tree garnish
Coarse salt
Brut Champagne or dry white sparkling wine
Directions
Add ½ cup caramels into apple cider; cover and allow to sit overnight. Strain cider and discard caramels. Refrigerate until ready to use.
To make Salty Caramel Christmas Trees: Lightly spray a microwave-safe dinner plate with non-stick cooking spray. Place 4 caramels on plate and microwave for 10 second increments until caramels are soft and pliable. Use your finger to press down each caramel until it spreads to the size of your mini Christmas tree cookie cutter. Spray cutter with non-stick spray and cut out caramels. Lightly sprinkle coarse salt on top of each caramel. Cut a small slit in the bottom of tree. Repeat with remaining caramels. Cover with plastic until ready to use.
When ready to serve drinks, slide caramels on to rims of flute glasses. For each drink, add 1 oz. cider into glass and then fill as desired with Champagne.
For more information on booking a keynote speaker for one of your events, check out www.eaglestalent.com or call our office at 1.800.345.5607.