In recognition of Breast Cancer Awareness month and Wellness Wednesday, we're sharing the story of breast cancer survivor and Health & Wellness Speaker, Joan Lunden.
Joan Lunden's Inspiring Journey
---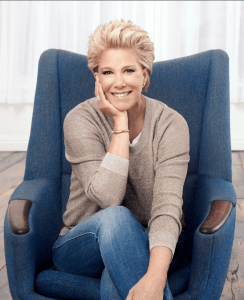 Joan Lunden is an award-winning journalist, bestselling author, motivational speaker, and women's health & wellness advocate. In addition, she has become a beloved TV personality. She has been a trusted voice in American homes for over 30 years as she greeted viewers each morning on Good Morning America. She eventually became the longest-running female host ever on early morning television. Lunden reported live from 26 countries, and covered 5 presidents, 5 Olympics, and kept Americans up to date on how to care for their homes, their families, and their health!
Unfortunately, in June of 2014, Lunden was diagnosed with triple negative breast cancer, which required 9 months of aggressive treatment – including a lumpectomy, radiation, and 16 rounds of chemotherapy. However, she refused to let this bring her down. In fact, she wanted to turn her diagnosis into an opportunity to help others, so she began to blog about her cancer treatment.
Soon after, she wrote a memoir called Had I Known, which documents her battle, and also reflects on her life and career. Lunden now serves as an ambassador for Amgen's Breakaway from Cancer, advocates for patients on Capitol Hill, and actively communicates with the cancer community through her website and social media. After becoming cancer-free, Lunden believed it was important to share her story and advice to uplift others who are still fighting their own battle with breast cancer. As a speaker, she also discusses the importance of health and brings a positive and resilient outlook that can truly bring any crowd together.
---
For more information on booking Joan Lunden: 
check out Joan Lunden's Inspiring Journey www.eaglestalent.com or call our office at 1.800.345.5607.
---