Eagles Talent is proud to be representing John C. Havens as a keynote speaker.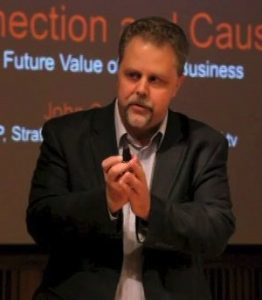 John C. Havens is a contributing writer for Mashable.com, author, and emerging/social media consultant. His focus is on leveraging the science of happiness with emerging technology to maximize value.

John has been a thought leader for new/social media since 2005 when he worked at About.com (owned by the New York Times). John was also the EVP for Social Media at Porter Novelli. He has given dozens of keynotes, workshops, and Q&A's on the ROI of Social and Emerging Media.
Havens was named Smart Meetings 'Top Tech Speakers You've Got to Hear.' He is the author of Tactical Transparency (published by Wiley), a how-to focused business book about building trust with social media that features hundreds of interviews from industry leaders and provides immediate implementable tips that lead to direct ROI and employee engagement.
John C. Havens is a very dynamic speaker who is able to communicate complex concepts in simple and entertaining terms.
-He knows how to effectively use storytelling and humor to connect with his audience.
-He energetically presents a road map for companies on how to leverage social media to grow their business.
[bitsontherun ZndqGKFE]
To check fees and availability on John C. Havens call Eagles Talent Speakers Bureau at 1.800.345.5607.