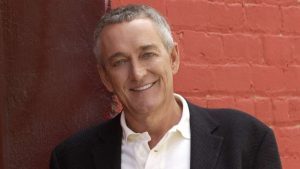 Each year around Thanksgiving Day, as the eighty speeches I do each year starts winding down, I take a full day, sit in front of my Outlook Calendar thinking about each of the events I was honored to do during the year and remember the companies, places, people and audiences. Words can't express the pleasure derived from closing my eyes for a minute or two and silently reliving each event.
I've never been one to study my competition but I'm guessing there must be thousands – maybe tens of thousands – of authors out there who would love to be hired to give a speech so my first thought each year is how fortunate and thankful I am that I'm allowed to be a researcher, author and someone who gets to speak and tell remarkable stories about the world's greatest business leaders and companies and share their lessons. I'm frequently asked where my high energy level comes from. How could one not be highly energized when they're doing what they love and doing it all over the world? When your vocation becomes your vacation you'll never work a day in your life.
I'm  grateful for the CEO's and leadership teams of companies who truly want to do things right and achieve their full economic potential for the benefit of all the stakeholders; the workers, the customers, the vendors and suppliers, and the owner or shareholder. After screening more than 220,000 companies, studying 45,000, interviewing more than 11,000 CEO's and business owners during the past twelve years, I am convinced that the vast majority of businesspeople truly get it. Unless you're working for the benefit of all the stakeholders, an upcoming disaster is in your future.
I'm also grateful that most people are truly coming to an understanding that unless they're embracing constant change (as I write about in my latest book) and working relentlessly to let go of yesterday's breadwinners, legacy brands, egos, same old-same old and conventional wisdom, their eventual irrelevance is guaranteed.
Finally, I'm grateful for a lesson as old as the ancient texts of all the world's great religions: If it's the right thing to do, the right thing is to do it fast. One of the chapters in The Reinventors deals with that subject and begins with a quote that helped form my career and life and that I repeat each day. "On the plains of hesitation bleach the bones of countless millions who on the dawn of victory, paused to rest and while resting died!"
Yep, I'm thankful for every audience I get to speak to and teach but also grateful that more and more business owners and CEO's are getting three of the most important lessons to be learned. They need to grow for the benefit of all the stakeholders. In order to grow they need to let go. And, if it's worth doing, it's worth getting done quickly.
Happy Holidays.
To check fees and availability on Jason Jennings call Eagles Talent Speakers Bureau at 1.800.345.5607.