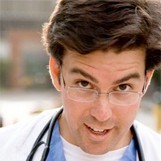 People who have the most demanding careers need a healthy outlet to help manage their day-to-day job stress. For years, Dr. Brad Nieder has been doing this by prescribing laughter to healthcare groups, professional associations, and government organizations.
Laughing is one of the most healthy and natural ways to manage stress, relieve pain, and increase immunity–especially in the working-world. Every joke from Dr. Nieder provides instant relief to his audience by helping them to find 'the funny' in very serious and stressful work situations. In every work environment there are challenging tasks or people that act as stressors. Dr. Nieder comically mocks these stressors and frees the audience from holding onto any negativity these stressors sometimes cause.
Dr. Nieder has been self-medicating himself with laughter for years, by using it as early as med-school. While attending school, he studied to be a doctor by day, and stand up comic by night throughout Denver. He is a physician described as "Jerry Seinfeld or Ray Romano…with an MD." He has the comic chops that have audiences popping stitches, and the medical know-how to sew them back up!
He is a one of a kind keynote speaker and comedian. His "Laughter is the Best Medicine" program is entertaining, inspiring and informative. He has co-authored the book Humor Me, which features his popular poem of wellness advice. He delivers an uplifting message specializing in Healthcare humor and gives wellness advice. His program is so funny and entertaining that, in between the laughter, the audiences are learning quality health tips.
Check out the video below of Dr. Nieder's funny examples of medical lingo:
[youtube]https://www.youtube.com/watch?v=4ShXlFptyCU[/youtube]
"Laughter is the best medicine … except for penicillin.  And aspirin. And (let's face it) Scotch."-Dr. Nieder.
To Check Availability for Dr. Brad Nieder:
Call Eagles Talent: 1.800.345.5607
Or click here to visit his keynote speaker profile page.