Did You Know?
There is a 95.4% chance of a player getting injured in the NFL.
Unfortunately, Matt Mayberry lived that statistic through a life-altering injury.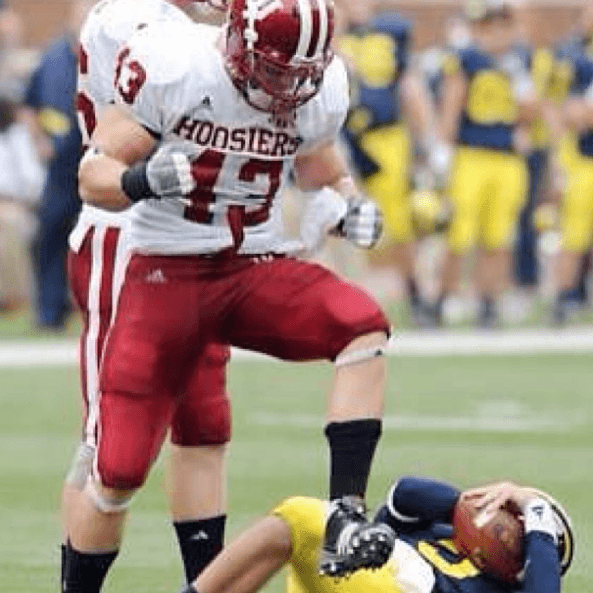 Back in High School, Matt was a break-out Football player. He played fullback, middle linebacker, and safety. Matt graduated with the school's career records for rushing yards (2,827) and touchdowns (39) and set single-season records for rushing yards (2,242) and touchdowns (5).
During his high school senior year, he was heavily recruited and ended up with 19 scholarship offers! Ultimately, he chose Indiana University where he went on to receive the Howard Brown award in 2009. This award was given to the player who exemplifies leadership, courage, and work ethic. In his Senior year, Matt's impressive performance running a 4.45 forty-yard dash at pro day at Indiana University, resulted in him being signed by the Chicago Bears in 2010. Matt finished his college career with 251 tackles, 139 solo, 10.5 sacks, 22.5 tackles for loss, three interceptions and three fumble recoveries.
Matt's NFL career ended almost as soon as it began. He played one preseason game for the Chicago Bears before he suffered an excruciating ankle injury. 
This painful experience turned out to be a blessing because it caused him to embrace his true passion—his true gift—helping audiences achieve massive success by learning how to turn failures into triumphs.
---
In Matt's keynote presentations, he strongly focuses on hard work, dedication, and overcoming adversity.
Matt's work has been featured in Forbes, Huffington Post, NBC, Fox News, Business Insider, MSN Lifestyle, Fox Business, ABC, and ESPN to name a few. Matt's first book, Winning Plays, released on September 6, 2016, and is available in stores everywhere.
---
For more information on booking Matt Mayberry:
check out www.eaglestalent.com or call our office at 1.800.345.5607.
---