October is known for being Breast Cancer Awareness month, and in addition to that, every Wednesday is known as Wellness Wednesday. This gives us the opportunity to celebrate wellness by honoring people who have overcome or are in the process of overcoming breast cancer.
---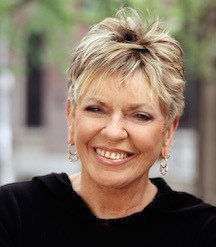 Linda Ellerbee led an extremely successful career in broadcasting and television. She quickly began her career working with networks such as CBS and NBC starring on The Today Show and Saturday Night Live. In 1986, Linda began working for ABC, where she was a reporter for Good Morning America. Soon after, she and her husband launched their own production company, Lucky Duck Productions. In the following years, their company ended up producing programs for every major cable television network and even created a news program for children on Nickelodeon!
Unfortunately, Linda was diagnosed with breast cancer in 1992 and underwent a double mastectomy. This was a huge setback for Linda but it did not hold her back from future achievements. She continued to make monumental moves in the television industry by receiving Emmys, publishing three books, and producing shows and specials for networks such as HBO, PBS, Lifetime, MTV and much more.
As a breast-cancer survivor, Linda believes it is vital to be a voice for women who are still fighting their own battles. In her keynote presentations, she encourages her audiences to stay strong and demand better medical treatment, while maintaining a healthy sense of humor. If you're looking for a breast cancer awareness speaker who brings compassion, wisdom, integrity, and laughter to a room, then look no further because Linda Ellerbee is just that person!
---
For more information on booking Linda Ellerbee and her Breast Cancer Survival Story: 
check out www.eaglestalent.com or call our office at 1.800.345.5607.
---