In March of 2014, Liz Wahl resigned from Russia Today (RT) Television on air. Wahl is a Filipina-Hungarian-American who had been with RT, as an America correspondent, for 2 years. "I felt that I could no longer work here and go on television and tell the American people that this is what's happening and have it pose as news," Wahl said. "And that is why, personally, I cannot be part of a network funded by the Russian government that whitewashes the actions of Putin … It's something that I don't feel comfortable with." Her courageous decision to resign went viral and made headlines in the news opening a huge discussion about the media and the government.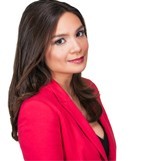 While some have questioned her motives to resign, she invites the conversation on doing what she believes was the right thing. Wahl said, on CNN's Anderson Cooper, she did this "for personal gain … couldn't be farther from the truth." [I] "hesitated to speak on this for a while for fear of repercussion … the propagandist nature of RT (had come) out in full force" [over its coverage of the Ukraine crisis]. (Read Liz Wahl's story, "I Was Putin's Pawn," in her own words, on Politico.)
Liz Wahl is available as a guest keynote speaker to share her story of resigning and doing what she believed was right. While understanding what she did may not have been seen as popular, she knew that she would have to be strong — in facing critics and intense scrutiny.
Liz's keynote is focused on the importance of integrity. Using her own story as an example, Liz believes that maintaining integrity is invaluable, whether you're an individual or a leader in an organization.
She also does Q&A sessions for colleges and universities, leading a discussion on media/news and the involvement of government.
With the turmoil that is taking place in Russia/Ukraine, the recent controversy with Edward Snowden, as well as her own story going viral on social media and the news, Liz is certainly timely and shares how one action can cause so much disruption.
For more information on booking Liz Wahl as a guest speaker, contact Eagles Talent Speakers Bureau or visit her keynote profile page here.