A recent trip to Arizona inspired this take on "The Magnificent Seven."  I promise, no outlaws here, only seven unique keynote speakers on our roster who will inspire and add value to your clients' events.
Glance at our posse below. Reach out with any questions and inquiries.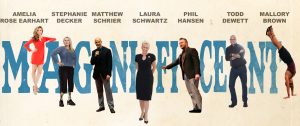 As an inspiring pilot who became one of the youngest women to fly a single-engine plane around the world, Amelia shares with her audience how to define their "True North."
Using her own story, she provides the inspiration and motivation your team needs to take on challenges. She helps you discover your inner hero, as well as recognize the everyday heroes in life. She shares how humor, teamwork, and setting goals can be used to overcome any obstacle.
3. Matthew Schrier
After seven months of being held captive in Syria, Matthew escaped. Upon his arrival home Matthew's story of survival was documented by worldwide media, including on the front page of the New York Times, 60 Minutes, CNN, the Jerusalem Post, CBC, Fox News, as well as dozens of other outlets.
Laura is the former White House Director of Events, TV Commentator, and best-selling author (of Eat, Drink & Succeed). She focuses on helping organizations and individuals create better business partnerships/relationships. From there, ANYTHING is possible. 
5. Phil Hansen
His keynote is authentic, empowering and adds a ton of value for attendees. He also has one of THE most unique interactive-art experiences in which all attendees can participate.
6. Todd Dewett
Dr. Dewett is the go-to leadership and career expert for millions of members through Lynda.com at LinkedIn. His library of work with Lynda.com has earned praise from professionals in over 160 countries.
Mallory Brown represents a new generation of giving, philanthropy and changing the world. She gets attendees inspired with her "Just Go" presentation from traveling through remote parts of the world.
For more information on booking one of our "7 Magnificent Managed Keynote Speakers," or any keynote speaker for one of your events, check out www.eaglestalent.com or call our office at 1.800.345.5607.