All Mallory Brown wants for her birthday is $30,000…
for her CrowdRise 24- Hour Impact Project where she will educate and train women so they can start their own business in Chapa, Ethiopia. Mallory's inspiring TEDTalk is titled "How to Save the World before You're 30," and today she is taking a big step closer to that dream.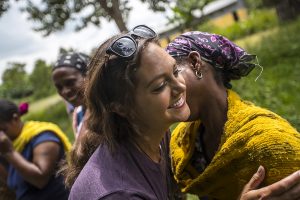 She turned 30 this past Sunday, and today she launches her latest pop-up fundraiser. Her goal is to raise $30,000 to change the lives of 30 impoverished women in a village in Chapa.

We asked Mallory Brown a couple of questions to know a little more about the project. These were her answers:
Q1: In your CrowdRise project, what type of businesses will the women in Chapa be opening?
"The 30 women of Chapa have divided themselves into 3 groups and will be starting 3 different types of businesses. Ten women will raise livestock, breeding and caring for farm animals to sell their products in the market. Ten women will open a mill house and process raw grains from the harvest into sellable food products. The final ten women will open their own beauty salon and barber shop providing hair cuts to men and women in the village."
Q2: Why do you consider Ethiopia your favorite country? Is it because of a specific experience? If so can you please describe and/or explain?
"When I first visited Ethiopia in 2012, it instantly became my favorite country in Africa.  I'll never forget my first day in this country, seeing woman carrying water on their heads and families herding cattle. Wild cows and goats crowded the streets, and people were everywhere.  I thought, THIS is Africa!  Dirt roads led me on a road trip through lush green mountains covered in a scattering a of mud huts.  I almost felt like I had stepped back in time. Ethiopia is more visibly in need than many developing countries but also more welcoming. Ethiopia is over populated, but the locals are friendly and happy. Kids run next to our cars and everyone shakes our hands to greet is. There is a sense of calm in the chaos…and I love it."
Q3: You run flash fundraisers that engage donors in full circle philanthropy. How do these experiences translate to your corporate keynote presentations?
"My flash fundraisers are a very interactive experience. I want my donors to see the need first hand and feel like they are on the ground me. My keynote presentations have the same goal. I play videos, show photos, and tell stories to captivate my audience and transport them out of their seats and into a slum in Haiti…or a village in Cambodia. I believe that true change comes from emotion…and providing an immersive experience for my audience invites them to care about my cause."
For information on booking a keynote speaker for one of your events, check out www.eaglestalent.com or call our office at 1.800.345.5607