W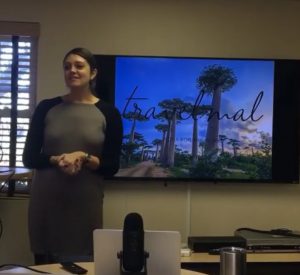 e recently caught up with our well-traveled managed keynote speaker Mallory Brown. She sat down with us to answer a few questions about her amazing year!
Mallory answers questions about being a Social Entrepreneur, her humanitarian efforts, and comments on her recent inspirational keynote speech.
Q: Cosmopolitan named you one of "4 Women Who Prove You Don't Need to Be Rich to Start Your Own Business." You proved that this past June when you were in Ethiopia, and you helped 30 Ethiopian women start their own businesses. Whether it's half way around the world or in our own back yards, how can it benefit a company to connect with different cultures?
A: "We live in a global age and you are one click away from anywhere in the world. I think that the diversity of people and cultures is so beneficial to operate in a business environment you have to be able to interact with others and that's just crossing cultural boundaries. I think the world is going in such a great direction, that people see the benefit in this and they see that someone — even from a sales perspective, sees its like customers are now international customers. You can get your products internationally, you can have supporters. The world is your oyster and you have to grab it!"
Q: You raised close to $100,000 dollars this year for several charities, each time surpassing your desired goal. What is your secret to being so successful at 24 hour Flash Fundraisers?
A: "The secret to success is two things:
1) I believe in direct and personal giving! Direct meaning all the money I raise goes directly to the cause, and nothing comes out for administrative fees, for my flights to places I'm going, I'm there to help, and anyone who's donating through me is helping directly on the ground.
 2) Also I make it personal, I try to be very specific in what I'm doing, and showcase exactly what something looks like, and feels like, names …so that a donor or viewer feel like they are on the ground with me. When they hit that personal connection, they are so much more willing to give. If in general, if you are trying to raise money for AIDS, its so vague that it might not entice someone, but if you can tell this specific story of someone that you met who has a specific need and provide a direct access to that person, donors are so much more willing to help!"

Q: In October, you spoke at the Women's Leadership Conference of Northeast Ohio. The client said: Our attendee's loved her story and respected her as a business woman and entrepreneur!"
A: That was a wonderful speech for me because all of the attendees were women in business! So much of what I do is unique in that I paved my own path, and I was really trying to inspire the women that they can use their talent and use their business acumen to fulfill themselves personally and also to do more for the world at large. It was just a great audience for me because we bonded over being working women. It was an incredible audience and I think they all took away ways they can own their own careers more, make bold decisions, and move forward in very swift positive ways. 
If you're interested in bringing Mallory to your next event, check out www.eaglestalent.com or call our office at 1.800.345.5607.