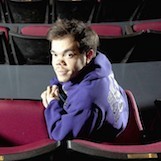 You may remember Super Bowl XLVII, when the Baltimore Ravens took home the trophy after their astonishing win against the San Francisco 49rs. What you may not know is the inspiration behind that win.
Meet Matthew Jeffers. Standing at just 4-feet-2 inches, this actor became the driving force that put the Baltimore Ravens on the right track towards the Super Bowl. After a devastating three game losing streak, Jeffers took the liberty of penning his favorite team a letter, encouraging and reassuring them of their inner potential. Jeffers had no idea how much of an impact his message would have.
In his heartfelt letter, Jeffers pointed out,
"We live in a painful world, no doubt about it. But let me tell you this: The ONLY disability in life is a bad attitude. The ONLY disability in life…………is a bad attitude. A positive attitude is the most powerful combatant to life's misfortune."
This was just what this team needed to hear to get back on the right track. Just shortly after receiving the letter, the team went on to defeat the New York Giants, the first stop on their road to complete NFL domination. After winning game after game, the Ravens went on to the Super Bowl, defeating the San Francisco 49rs with Jeffers cheering them on all the way.
Today, Matthew Jeffers is a Motivational Speaker who helps audiences see their own potential. He believes that life is like a play, and while you can't always choose the actors or plot points in your story, you are very much in control of two things – the theme and your costume. Using his own story of overcoming adversity, Matthew Jeffers provides the key actions to empower audiences. 
Check out his inspirational keynote presentation here…