The 2016 Summer Olympics in Rio de Janeiro, Brazil will be watched on millions of televisions across America. The world's most athletic men and women will display their skills while competing for gold medals in numerous events.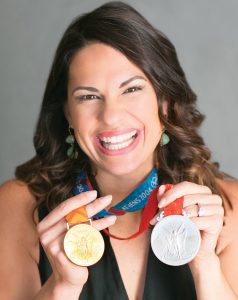 From 1996-2008, softball was one of the most popular events the Olympics had to offer. One amazing player from that era, was its star outfielder, Jessica Mendoza, who helped Team USA win the gold medal in 2004 and a silver medal in 2008.

Today, Jessica is an ESPN sports broadcaster widely known for being the first female MLB Analyst in postseason history! She also continues to inspire both adults and children as a keynote speaker showing them how to work as a team, and "begin with the end in mind."
Recently, Mendoza took time to answer questions about female barriers in professional baseball, softball and baseball in the Olympics, and her transition from athlete to keynote speaker:
1. What barriers do you see being broken by women in baseball?
"I think the first and the next barrier that is going to get broken is the front office, that General Manager/Vice President role that we are seeing in each baseball organization. There is going to be another powerful female."
2. Do you see softball and baseball returning to the Olympic Games?
"It's coming back in 2020 in Tokyo. I have a strong belief that in 2024, if Los Angeles gets that bid to host the Olympic Games, softball and baseball will be in those Olympics as well."
3. How did you transition into public speaking?
"I just wanted to share my message as a Hispanic athlete to get out there and talk about my own upbringing and a lot of the challenges that I faced."
To view another Olympic speaker, check out our exclusive Angela Hucles interview here!
For more information on booking a keynote speaker for one of your events, check out www.eaglestalent.com or call our office at 1.800.345.5607.