Why are clients rushing to book Marshall Goldsmith?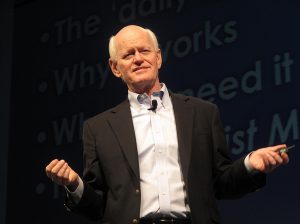 Marshall Goldsmith is a master at all trades, but he is especially noted for being the author and editor of 35 books, which have sold over two million copies, been translated into 30 languages and become bestsellers in 12 countries.
As an expert on leadership and management, he is consistently ranked as one of the top 10 most influential business thinkers in the world. Using this expertise, Marshall tailors his keynote presentations to suit the client's needs. His program topics range from employee engagement, to effective women in leadership, and more. With Marshall Goldsmith as your keynote speaker, audiences will walk away feeling more engaged, encouraged, and ready to tackle the workforce!
Program Descriptions:
MOJO: Increasing Meaning, Happiness, and Employee Engagement
Helping Successful Leaders Get Even Better
Coaching for Leadership
Global Leadership: The Next Generation
Globalization: A Nightmare or a Dream Come True
Effectively Influencing Up: Changing What You Can Change and Making Peace with What You Cannot Change
Achieving Happiness and Self-Acceptance in a Crazy World
Women in Leadership: Unique Challenges and Opportunities
For more information on booking Marshall Goldsmith for one of your events, check out his page on our website or call our office at 1.800.345.5607.