Lt. Col. Consuelo Castillo Kickbusch is an inspiration. She's a barrier-breaking military officer who now spends her time as a motivational speaker focusing on empowering the next generation of leaders. In this article, Consuelo addresses diversity in today's environment.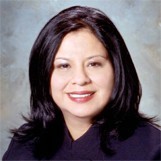 "We sometimes think of diversity as us verses them, but everyone has a story. Everyone has had a journey."
Consuelo believes that you have to embrace your own story. She goes on to say that, "you can not understand where you're going until you've understood where you have been. When you think no one knows, remember you know! So hold onto that as your measure of ethics."
Consuelo's impacting speaking presentation provides participants with the different dimensions of diversity in today's environment (like Fortune 500 companies and corporations). She uses her "Consuelo-isms" to help them embrace the diversity within.
How does your company deal with diversity? Is it celebrated, or simply ignored? Do you even know the importance of acknowledging it at all? Unfortunately it is easily overlooked. An issue, if properly treated, can enrich you and your employees.
Personally, here at Eagles Talent Speakers Bureau, not only is diversity embraced and acknowledged, but celebrated! Consuelo believes that "everyone has a story" and their story and diversity can be applied within a company positively. Here at Eagles, I feel that I am encouraged to use "my story" to help contribute in my work. Understanding an employee's cultural difference, can create a successful and productive work environment.
More about Consuelo Castillo Kickbusch
The daughter of two immigrants, Consuelo was born and raised along the border in Laredo, Texas. While growing up, she dealt with the challenges of poverty, discrimination and illiteracy. What her family lacked in finances, they made up for in values. Consuelo said that her father once told her, "you're not poor, you're rich: rich in values, rich in tradition, rich in culture and faith."
The values Consuello learned as a child were reinforced throughout her career in the U.S. military. After graduating from Hardin Simmons University, Consuelo Castillo Kickbusch entered the U.S. Army as an officer and served for two decades. During that time, she broke barriers and set records in the military where she became the highest-ranking Hispanic woman in the Combat Support Field. Years later, she founded Educational Achievement Services, Inc. with a mission to prepare tomorrow's leaders. The valuable lessons taught by her parents empower her today.
[youtube]https://www.youtube.com/watch?v=1hCmnopu1Bc[/youtube]
Consuelo is an amazing keynote speaker on cultural diversity and will encourage participants to take an introspective look and inspire them to into action!
To Check Availability or Consuelo Castillo Kickbusch:
Call Eagles Talent: 1.800.345.5607
Or click here to visit her speaker profile page.