Yesterday, families all around celebrated National Siblings Day — which is an annual holiday created to honor brothers and sisters everywhere! After losing both of her siblings to accidents, Claudia Evart founded this day in 1995 because she realized the importance of siblings in everyone's lives. 
---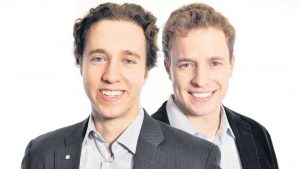 Here at Eagles Talent, we are fortunate to know two great keynote speakers who are also brothers! Craig and Marc Kielburger are social entrepreneurs and best-selling authors. Together they co-founded WE Charity, an international non-profit organization that empowers and educates over 1.7 million children. And in 2013, Craig and Marc were inducted into Canada's Walk of Fame for their humanitarian efforts and their work to empower youth to change the world.
Marc Kielburger has a diverse background in social responsibility. He graduated from Harvard University with a degree in international relations, received nine honorary doctorates and degrees for his work in the fields of education and human rights, and more. All of this has made him one of the world's leading figures in corporate social responsibility and youth empowerment.
Craig Kielburger also advocates for social rights around the world. He received a degree in Peace and Conflict Studies from the University of Toronto, has been awarded 15 honorary doctorates and degrees, and more. 
As talented keynote speakers, Craig and Marc teach their audiences how to use a "me-to-we" philosophy to create their own unique path, and provide practical tips that help create personal and organizational growth.
For more information on booking social entrepreneur keynote speakers Craig Kielburger and Marc Kielburger, check out www.eaglestalent.com or call our office at 1.800.345.5607