American wrestler and 2000 Olympic Gold Medalist Rulon Gardner is the epitome of an underdog story.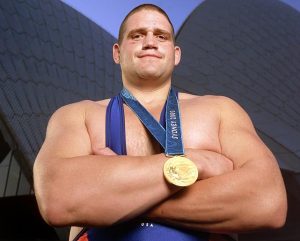 While on the 2000 United States wresting team, Gardner faced a heavily favored opponent from Russia, Alexander Karelin.
Regarded as a wrestling legend, many chose Karelin to destroy Gardner on the mat during their international bout. 
However, in what is now known as "The Miracle on the Mat," Gardner took down Karelin and won the gold medal in one of the most dazzling upsets in Olympic history!
After years of popularity from American fans and inspiring millions more, he was recently a contestant on NBC's The Biggest Loser displaying determination and bravery.
His stunning weight-loss performance led him back to his career wrestling weight, which led him back home to his wife and his life's next journey.
Gardner's fresh outlook on life inspired himself to make a potential comeback in competitive wrestling.
As a man with a drive, love, and passion for what he does, Gardner is a prime example of how persistence leads to success both on and off the mat.
For more information on booking a keynote speaker for one of your events, check out www.eaglestalent.com or call our office at 1.800.345.5607.