In recognition of International Women's History Month, we are celebrating powerful female speakers and their stories each week. Today's article features the 2018 Snowboard-Cross Paralympics Silver Medalist– Amy Purdy!
Paralympian Amy Purdy
---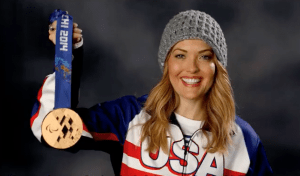 At 19, Amy Purdy was rushed to the hospital in a state of septic shock. She experienced respiratory and multiple organ failure which caused her to lose circulation to her extremities. She was immediately told she had less than a 2% chance of survival, was put on life support and placed into a coma. After multiple blood transfusions, and the removal of her ruptured spleen, doctors diagnosed Amy with Meningococcal Meningitis. Due to the lack of circulation she had suffered, doctors had to amputate her legs below the knee.
After going through this trauma, Amy challenged herself to move on with her life and attain goals that even those who have both legs struggle to achieve. Just three months after her kidney transplant, Amy entered the USASA National Snowboarding Championship where she won medals in three events. Today, she is one of the top ranked adaptive snowboarders in the world.
Over the years, Amy has evolved and utilized her remarkable story to motivate individuals nation wide. With her experiences pushing life's boundaries, Amy will instill a sense of drive into any audience. Watch the video below to see her journey.
---
---
For more information on Paralympian Amy Purdy, contact [email protected] or call: 1.800.345.5607
---