Peter Vidmar, keynote speaker, legendary gymnast, and Olympic gold medalist is used to being the center of attention on the world's biggest stages for over 20 years! As the highest scoring American gymnast in Olympic history, Vidmar is an expert on leadership and doing whatever it takes to be victorious.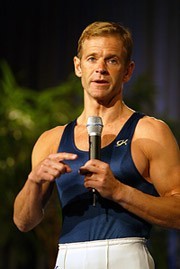 After accumulating numerous national and international titles, his performance in the 1984 Olympic Games in Los Angeles, CA is his most notable accomplishment.
Not only was Vidmar the captain of the USA men's gymnastics team, but he led it to America's first ever team gold medal victory with a tremendous upset over the People's Republic of China, the defending world champions.
During that same Olympics, Vidmar also became the first American to place in an Olympic All-Around event by winning a silver medal in the individual all-around competition.
However, his halo shined brightest in the "City of Angels" when his perfect 10 score in the pommel horse competition won him the gold medal!
His stellar Olympic accolades preceded his induction into the US Olympic Hall of Fame, twice as an individual and as a member of the mighty 1984 USA men's gymnastics team.
Vidmar's post-athletic career includes being a gymnastics commentator for CBS Sports and ESPN. He is currently the Chairman of the Board of USA Gymnastics, the national governing body of gymnastics in the United States.
His team-building experience and knowledge on performing your best under pressure have molded him into a marvelous keynote speaker.
For more information on booking a keynote speaker for one of your events, check out www.eaglestalent.com or call our office at 1.800.345.5607.