Yesterday, multimedia artist, author, and innovative keynote speaker — Phil Hansen, spoke to a top Marketing agency in NYC.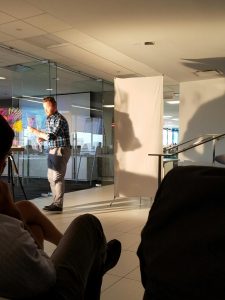 Phil was brought in to speak on the first day of a three day professional development and team building conference. Day one (yesterday), was for music and art.
Art is not only discussed in his keynote speeches, but also displayed. While explaining his personal back story of his intense style of pointillism (which led to a tremor in his hand and a diagnosis of nerve damage); he also presented shadow art.
Our Vice Presidents of Sales (Stacy Holand) was in attendance for the event and went on to say:
"Everyone in the audience was in awe, with not only his art but amazing back story!"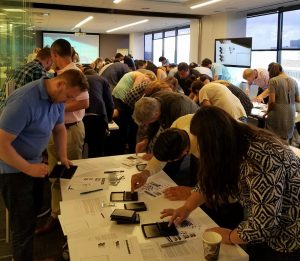 Phil closed out his keynote speech with a very cool team-building exercise using fingerprint art. Over 125 attendees eagerly participated in working together to create one large image.
Attendees were buzzing with positive feedback, discussing Phil's speech and the fingerprint art activity — they felt it was inspiring and the motivational boost they wanted to feel during the event.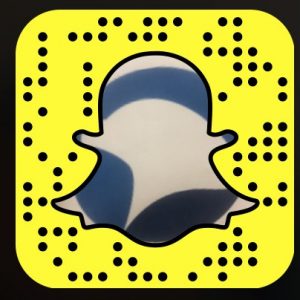 You can view a glimpse of Phil Hansen speaking at yesterday's conference from our Snapchat story on Youtube. If you are interested in viewing more speakers in action, please follow us!

Watch below, as Phil returns this morning to the conference to present the end result of yesterdays group fingerprint art activity:
For more information on booking Phil Hansen or any keynote speaker for one of your events, check out www.eaglestalent.com or call our office at 1.800.345.5607.