Major congratulations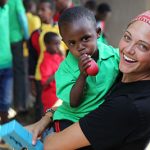 are in order to Mallory Brown for receiving recognition from the renown charitable foundation, Points of Light. If you don't already know, Points of Light is an organization, founded by President George H.W. Bush, that recognizes and honors those who go above and beyond to make the world a better place through charity work and volunteer services. 
As a philanthropist, Mallory Brown travels around the world to extend help others in need through her organization, World Clothes Line – a "buy 1, give 1" apparel company on a mission to clothe the world. As a speaker, she draws from her life experiences as she inspires audiences to go out and make a difference in the world. 
To check out her article, visit: https://www.pointsoflight.org/programs/recognition/dpol/awards/5725
For more information on booking Mallory Brown for one of your events, check out her page on our website or call our office at 1.800.345.5607.