Great keynote speakers possess the kind of exceptional talent that's hard to come by. That's why when we find speakers that have what it truly takes, we're eager to share! All of the speakers we work with at Eagles Talent contribute unique backgrounds, stories, messages and speaking styles that make for outstanding performances at events and conferences, and the following include some of our most highly-sought keynote speakers.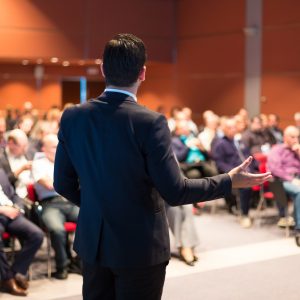 Jim Abbott
Just who is Jim Abbott? Jim Abbott is best known for the storied career he led as a Major League Baseball pitcher. Born with only one arm, Abbott surpassed all expectations to both maintain an independent lifestyle and compete as an athlete. A pitcher for the University of Michigan baseball team, Abbott went on to play for the Toronto Blue Jays, winning more games his first season than any other rookie in the League. Abbott was also a member of the 1988 gold medal-winning U.S. Olympic baseball team and pitched an impressive no-hitter for the New York Yankees. Given the many challenges and successes Abbott has experienced over the course of his professional athletic career performing with one arm, Abbott's speeches are focused on overcoming adversity and helping others harness their full potential.
Neal Petersen
Neal Petersen is a man who loves adventure. Having completed a solo yacht trip around the world in a self-constructed yacht, Petersen knows what it means to achieve success in the face of great risk. Petersen's childhood in South Africa during a time wrought with the tumult of apartheid also taught him many valuable lessons that he's been able to apply on his journeys around the world. Today, Petersen offers first-hand insight into adaptability, leadership, planning, and more to business professionals. As a global investor himself, Peterson is able to easily connect with international audiences who are invested in achieving success in the realm of business.
Walter Bond
You may also hear Walter Bond referred to as, "Mr. Accountability," thanks in part to his commitment to the belief that everyone must be accountable for their actions. A former NBA player for the Dallas Mavericks and Detroit Pistons, Bond now devotes his time to sharing the lessons he's learned as a professional athlete, specifically his "31 Truths to Boost Peak Performance." Bond also has experience with franchise businesses, and has merged the personal skills he developed as an athlete with his astute understandings of the world of finance and business. Bond is further known for his upbeat, exuberant personality that fully engages audiences.
Mark Thompson
Meet Mark Thompson, the CEO of Virgin Unite Mentors, a program launched under Sir Richard Branson that focuses on innovation and executive improvement. However, Virgin Unite Mentors exists as just one of the many hats Thompson has worn (and continues to wear). Thompson has also been a Chief of Staff for Charles Schwab, a Founding Board Member of Smule, a New York Times best-selling author, and even a Broadway producer. With such a diverse background, it's little wonder that Thompson is able to connect with a wide array of audiences. Thompson's speeches focus on ways leaders and executives can inspire growth, implement change, and increase engagement within the companies or organizations they lead. With a finger on the pulse of leadership today, Thompson is able to successfully deliver effective and relevant solutions to leaders around the world.
Connie Podesta
Could your company benefit from better leadership, sales performance or marketing? If so, Connie Podesta is the keynote speaker you're looking for. Companies love Connie's ability to help elevate employee and corporate performance as a result of her sharp insight into psychology and human relations. What makes Podesta even more unique? She knows how to make an audience laugh. Podesta's speeches about improving a work-life balance, being more motivated in the workplace and team building are always delivered in a manner that has audiences engaged and smiling. Connie Podesta is a Board Certified Professional Counselor, as well as an American Psychotherapy Association member.
What Makes These Speakers Stand Out?
Each of these speakers shares the common characteristic of achieving extraordinary success in their personal or professional lives, but that's not exclusively what makes them great keynote speakers. Audiences benefit from listening to individuals like Jim Abbott and Mark Thompson not because they can speak on their many successes, but because they've taken these triumphs and transformed them into messages that are relevant to broader audiences. Their speeches have clear, insightful messages, and are delivered in a way that motivates and inspires. It takes a gregarious speaker like Walter Bond to fully capture the attention of an audience, just as it takes the comedic spin of Connie Podesta to make speeches about self-improvement more engaging.  The value of these keynote speakers therefore rests not so much in what they've done in the past, but how they help others achieve success in their own lives, today.
For information on booking one of our featured keynote speakers, contact Eagles Talent at 1-800-345-5607.