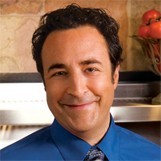 That heavy holiday food is right around the corner, but this year you don't have to trade your good eating habits for bad foods. Remember there are always alternatives and fun spins on our old favorites. And with a little creativity you do not have to sacrifice taste for health, instead try out this easy, healthy and very delicious recipe on your guest.
Try this yummy, moist, and healthful alternative from Celebrity Chef & Culinary Medicine Practitioner, Dr. John La Puma. If a pumpkin pie and chocolate brownie had babies, they would be Pumpkin Pecan Squares:

Preparation: Heat oven to 350°F. In a large bowl, combine flour, stevia, baking soda, baking powder, salt, cinnamon, ginger and allspice; mix well. Combine egg whites, pumpkin and coconut milk in a medium bowl; mix well. Add to dry ingredients; mix gently. Stir in pecans. Spoon batter into a greased or sprayed 13 x 9-inch baking pan. Bake 25 minutes or until a wooden pick inserted in center comes out clean. Transfer to a wire cooling rack. Cut into squares. Serve warm or at room temperature.

Preparation Time: 15 minutes
Cooking Time: 25 minutes
Servings: 16 
Calories: 103 per serving
Percent from Fat: 31%
Cusine: American
Course: Dessert
Ingredient: Pumpkin
Ingredients
2 cups whole wheat pastry flour
pinch of stevia powder
1 teaspoon each: baking soda and baking powder
½ teaspoon each: salt, cinnamon, ground ginger
¼ teaspoon ground allspice
2 large egg whites
1 (15 ounce) can pumpkin
¾ cup canned lite coconut milk (well shaken before measuring)
½ cup chopped pecans, toasted
Go ahead … click the Eagle.