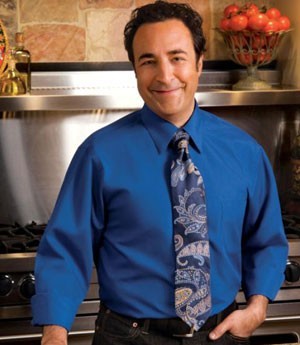 Did you overeat this Thanksgiving? And are you sick of heavy leftovers? Then our healthy and tasty recipe of the week is a breath of fresh air. Try Celebrity Chef & Culinary Medicine Practitioner Dr. John La Puma's easy to make Goat cheese pizza recipe. It provides pizzazz and health benefits in this saucy, tangy pizza and only takes 10 minutes to prepare, and 20 minutes to cook.
Servings: 4
Calories: 309 per serving
Percent from Fat: 31%
Cusine: American, Vegetarian, Gluten Free
Course: Dinner
Diet: Vegetarian, Gluten Free
Preparation
Heat oven to 350°F. Place frozen pizza crust on a cookie or baking sheet. Spread pizza sauce evenly over crust; top with roasted peppers and sliced tomatoes. Spoon balsamic vinegar lightly over the tomatoes; top pizza with goat cheese. Bake 20 minutes or until hot. Immediately drizzle balsamic glaze over pizza. Use your fingers to crush the oregano, rosemary and pepper flakes and sprinkle over the pizza. Cut into 8 wedges.
Ingredients
1 9-inch (12 oz.) frozen gluten free pizza crust*
1/3 cup organic pizza sauce
½ cup well drained bottled roasted yellow or red bell pepper strips
2 large plum tomatoes, thinly sliced (1 cup)
1 teaspoon balsamic vinegar
¾ cup (3 oz.) crumbled goat cheese
2 teaspoons balsamic vinegar glaze
1 teaspoon dried oregano
½ teaspoon dried rosemary leaves
¼ to ½ teaspoon crushed red pepper flakes, as desired