Sneaky Chef Missy Chase Lapine is back with another hit holiday recipe. Her own creative twist on the old time favorite sugar cookie is surely to be a hit this Christmas for your friends and family.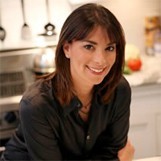 Ingredients:
(Makes: about 4 dozen cookies)
-8 tablespoons of unsalted butter, softened
-1/2 cup of sugar, plus more to sprinkle
-1/2 cup of apple sauce
-2 teaspoons of pure vanilla extract
-1 large egg
-2 cups of all-purpose flour (or whole grain pastry flour)
-1/2 teaspoon of salt
Directions:
> Remove butter from refrigerator to let soften.
> In a large mixing bowl, whisk together the flour and salt and set aside.
> In the bowl of an electric mixer, beat butter and sugar until creamy. Beat in apple sauce, vanilla, and egg. Slowly add the flour and salt, a little at a time, and mix on low speed just until all the flour is incorporated. Remove dough from bowl and shape into a ball. Wrap in parchment paper or plastic wrap and refrigerate for at least one hour.
> Preheat oven to 350 degrees. Lightly grease a cookie sheet or line it with parchment paper.
> When ready to bake the cookies, remove the dough from the refrigerator and roll out the dough the dough on a lightly floured surface (or between 2 sheets of parchment paper) to about one-eighth inch thick. Cut out the dough using shaped cookie cutters. Place cookies on prepared baking sheet and sprinkle with sugar (omit sugar is you are planning to decorate the cookies). Bake for 14 to 16 minutes or until golden brown. Let cool before decorating.
> Store cookies in airtight container at room temperature.