"Successful people are just ordinary people doing an extraordinary job." – Rocky Bleier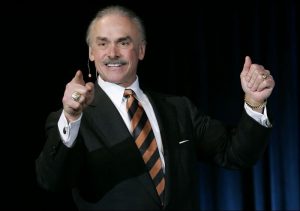 As both a war veteran and four-time Super Bowl champion, Rocky Bleier explores the structural and emotional aspects individuals and organizations need to reach their greatest potential. A master motivator and a highly sought after keynote speaker, Rocky inspires people everywhere with his heroic story of how he achieved the impossible with sheer strength and determination. Rocky Bleier's speeches are filled with inspirational messages that can benefit everyone, from corporate executives to student athletes.
To check fees and availability on Rocky Bleier, call Eagles Talent Speakers Bureau at 1.800.345.5607.
Subscribe to our blog
Stay up to date on all the latest news at Eagles Talent
By continuing to browse, you consent to our use of cookies. To know more, please view our
Privacy Policy.
Hide