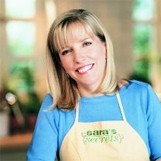 October is officially National Pizza Month. In honor of this incredible month and this incredible dish, we decided to share a couple of recipes from our Celebrity Chefs, such as… 
Chef Sara Moulton
As host of Sara's Secrets, which ran weeknights and weekends on the Food Network, Sara Moulton is one of the hardest-working women in the food biz.
Check out her recipe for Pasta Pizza below!
For each 10-inch pizza:
Kosher salt to taste
1/6 pound capellini
1 tablespoon olive oil
1/2 small green bell pepper, sliced into thin rings
1/2 cup Quick Tomato Sauce, recipe follows, or your favorite store-bought tomato sauce
2 ounces thinly sliced provolone
2 ounces thinly sliced prosciutto, ripped into pieces
Fresh basil sprigs for garnish 
Directions:
Bring a large pot of salted water to a boil. Add the capellini and cook until tender, 2 to 3 minutes. Drain well. Heat the oil in a 10-inch nonstick skillet over medium-high heat until hot. Add the bell pepper and cook 30 seconds per side. Transfer to a plate.
Add the capellini to the skillet, distributing evenly and pressing down hard. Reduce the heat to medium and cook, covered, until the bottom is golden, about 25 minutes. Invert the "crust" and cook the other side, covered, for 10 minutes longer.
Spread the tomato sauce over the "crust," leaving a 1/2-inch border. Arrange the provolone on top, overlapping the slices, and top with the bell pepper rings and prosciutto. Cover and cook until the cheese is melted, 3 to 5 minutes. Cut into wedges and garnish with the basil sprigs.
Quick Tomato Sauce:
Makes about 2 cups
Heat 2 tablespoons extra virgin olive oil in a small saucepan over medium heat. Add 1 small onion, finely chopped, and 2 garlic cloves, minced. Cook, stirring often, until softened, about 5 minutes. Empty one 28-ounce can Italian plum tomatoes, including juice into a large bowl and use your hands or a fork to crush. Add the crushed tomatoes and juices to the saucepan. Increase the heat to high and bring to a boil. Season with kosher salt and freshly ground black pepper to taste; simmer, stirring often, until thickened, about 20 minutes. Stir in 1/4 cup shredded fresh basil leaves and 1-teaspoon hot red pepper flakes.
Interested in booking Chef Sara Moulton? Check out her profile on our website or call Eagles Talent Speakers Bureau at 1-800-345-5607.