Former White House Director of Events and keynote speaker Laura Schwartz covered the first day of the 2016 Republican National Convention at Quicken Loans Arena in Cleveland, OH.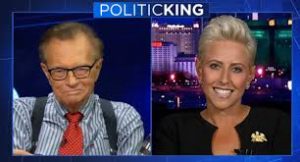 The Republican National Committee (RNC) is hosting nearly 2,500 delegates and over 2,300 alternate delegates from all 50 states, the District of Columbia and five territories from July 18-21, 2016.
The convention will also include roughly 15,000 media outlets, an international press corps only second in size to the 2016 Olympics, and a global audience that may stream live online videos while viewing updates on social media.
Roughly 50,000 people are expected to visit the city of Cleveland throughout the duration of the convention.
This year marks the third time Cleveland is hosting the Republican National Convention (1924, 1936).
Schwartz prepared for the convention by appearing on Politicking with Larry King last week.
As an expert event coordinator and natural leader, Schwartz can add her participation in the convention to her arsenal of political knowledge and business prowess.
Her infectious enthusiasm and sparking personality are welcomed by every organization she visits.