Former White House Director of Events, author, and keynote speaker Laura Schwartz analyzed the 2016 Democratic National Convention in Philadelphia, PA last month.
The convention was held at the Wells Fargo Center from July 25-28, 2016 and offered speeches from presidential candidates and other politicians and musical performances by Demi Lovato, Alicia Keys, and Paul Simon among others.
The final night of the convention was comprised of speeches by state senators, NBA legend Kareem Adbul-Jabbar, and Chelsea Clinton, daughter of Democratic nominee Hillary Clinton. There were also musical performances by Carole King and Katy Perry.
Hillary Clinton, former United States Secretary of State, accepted her presidential nomination with a speech as the convention concluded last night.
"Hillary is ticking through issues, talking plans, going after [Donald] Trump and adding biographical tones," Schwartz said of Clinton's speech.
Schwartz covered the current state of the Democratic Party offering insight on Hillary Clinton's acceptance speech, polling, voter groups, differences between the two conventions, the Bernie Sanders supporters, the female factor of a Hillary Clinton candidacy, Former President Bill Clinton's role in Clinton's campaign, First Lady Michelle Obama, President Obama, Vice President Biden and Senator Tim Kaine, Hillary Clinton's running mate.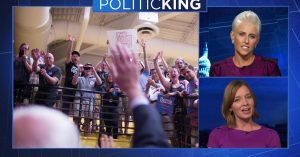 She then discussed the DNC's connection with millennials, mothers of slain sons, international guests representing American Muslims, and Hillary Clinton's proposed immigration, refugee, and global trade policies.
Schwartz said of the coverage: "American Democracy 'in action' through conventions, no matter what party or candidate, shines the light on the best of what America's foundation is and it is an honor to report on such a process to the world."
Schwartz also appeared on PolticKING with Larry King to speak about Bernie Sanders supporters. 
You can also see Laura Schwartz's coverage of the National Republican Convention here!
For more information on booking a keynote speaker for one of your events, check out www.eaglestalent.com or call our office at 1.800.345.5607.