Last week we had the pleasure of meeting Australian born Vinh Giang! Besides being a successful entrepreneur, and charismatic keynote speaker, he is a talented magician.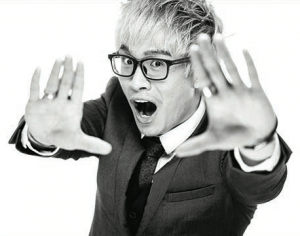 Coming from humble beginnings, Vinh started his speaking career by winning a competition that required contestants to speak on stage for 15 minutes, but he did 30. From that moment on, Vinh has continued to make a name for himself, and delivers his keynote speeches in a unique way, with magic tricks as a metaphor for the message he wants to convey. 
Want to see Vinh Giang in action? Take a moment to watch our Snapchat story below, and don't forget to add us at: eaglestalent!
In the video, Vinh explains that the only reason he was able to fool us, was because we all looked at the trick from an individual perspective. But, if we had joined together and payed attention from multiple points of view, we would've figured it out.
So what's the main message here? Collaboration is key!
It's true when trying to solve a magic trick, and true in business. Vinh Giang drives this key business concept and others, by creating a fun and highly entertaining atmosphere of illusion in his carefully crafted keynotes. 
For more information on booking an entertaining keynote speaker for one of your events, check out www.eaglestalent.com or call our office at 1.800.345.5607.