Eagles Talent is truly honored and excited to be representing Stephanie Decker as a keynote speaker.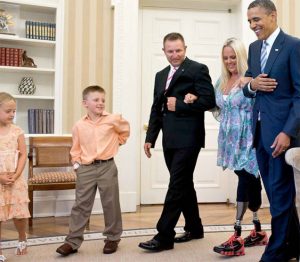 In March of 2012, a tornado ripped through the town of Henryville, Indiana. Stephanie Decker found herself in a life-altering moment. As her house began to disintegrate around her, she shielded her two young children with her body.
Her dream home fell in, crushing her legs, but because of her heroic actions, Stephanie's children were amazingly unscathed. And after losing about 50% of her blood, it was a miracle that she even survived and made it to the hospital. It was then determined that parts of both legs would need to be amputated.
Since the accident, Stephanie has inspired a nation. She has appeared on the Today Show, The Ellen Degeneres Show, ABC World News Tonight, and featured in publications such as USA Today and People Magazine.
Stephanie and her family also made a personal visit to the White House to meet President Barack Obama in which she walked into the Oval Office.
Stephanie has also created a foundation to help children with prosthetics as well as providing access to leading-edge prosthetics (for which she's working to get a bill passed in the Kentucky legislature).
Stephanie Decker is a true symbol of survival and overcoming adversity.
– She inspires and motivates audiences.
–She shares how humor and setting goals have helped to overcome obstacles and get back to an active life.
[bitsontherun Lg0RZxTh]
Watch Stephanie Decker being featured as 'Person of the Week' on ABC World News Tonight with Diane Sawyer.
[bitsontherun IPmqaqn6]
Watch Stephanie Decker Speaking at a recent speaking engagement. Learn why she is such an engaging motivational speaker.
To check fees and availability on Stephanie Decker call Eagles Talent Speakers Bureau at 1.800.345.5607.