Roger Crawford will be honored today at the International Tennis Hall of Fame Legends Banquet — held during the U.S. Open. Legend Stan Smith will present the speaker and author with the 2013 ITA Achievement Award from the International Tennis Hall of Fame and Rolex Watch USA.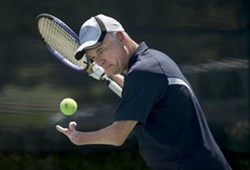 Although physically challenged, Roger has a past filled with impressive accolades:
He is an award winning NCAA Division One college athlete.

He was inducted into the Loyola Marymount Hall of Fame.

Roger was inducted into the National Speakers Association Hall of Fame in recognition of his highly successful speaking career spanning two decades.

Sports Illustrated has recognized Roger as "one of the most accomplished physically challenged athletes in the world."
After a successful tennis career, he now shares his inspirational story to inspire others:[bitsontherun mo8SmDfn]
Roger Crawford inspired others, he achieved phenomenal success in tennis. Roger's remarkable life story of how he successfully competed though he appeared to have a significant disadvantage, is a powerful example of overcoming adversity.