Motivational Speakers share stories of overcoming adversity and achieving success. From sports stars and entrepreneurs, to people with amazing stories of survival and individuals who pursue social causes for a better world, they leave an impact on attendees that lasts a lifetime.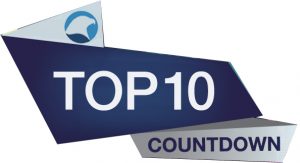 These keynote motivational speakers vary on their topics: Leadership experts, overcoming adversity, creativity, business, etc. This top 10 list is compiled from the top viewed speakers on our site, top requested speakers, and of course, the deciding factor, top booked keynote speakers.  These motivational speakers have a proven track record of presenting their keynote speech in front of the top Corporate audiences as well as the largest associations looking to bring value to their conference attendees.
Recommending speakers who deliver the best value and have a great professional track record is a service we provide for our clients. If you're interested in learning more about these and other motivational speaker's keynote presentations, books, client testimonies, fees and availability, connect with Eagles Talent Speakers Bureau today at 1-800-345-5607.
1. Alex Sheen
Alex's father died of small cell lung cancer. His father was good with his promises, so Alex titled his father's eulogy "because I said I would" and created the promise card in his memory. Today, "because I said I would" is a social movement and nonprofit dedicated to the betterment of humanity through promises made and kept. Their goal is to build a community of people who are driven to help others through the strength of determination.
2. Phil Hansen
Phil's ability to draw art parallels to the corporate world has lead to speaking at events such as the Adobe MAX Creativity Conference, World Summit of Nobel Peace Laureates, and the Million Dollar Round Table. He designed a unique art experience beyond the talk. Companies who are seeking an unforgettable interactive experience for their audience are absolutely stunned by its originality, value and effect.
3. Mel Robbins
Besides being one of CNN's most popular on-air commentators and opinion writers; Mel is a powerful motivational speaker who is trusted by global brands to design and deliver multi-media, interactive keynotes that inspire change, challenge thinking and accelerate personal and business growth.
4. Vinh Giang
Vinh has a unique ability to speak about important business and motivational concepts in an interesting way, by using magic as his metaphor when he speaks. He is loved by his audiences for his upbeat energy, fun attitude, and entertainment with a message!
5. Mark Scharenbroich
Mark is the author of award-winning book, Nice Bike: Making Meaningful Connections on the Road of Life. His core messages have always been about connecting – to support organizations and businesses in helping team members feel truly connected to their core values and their customers.
—————————————————————————————————————————-
For more information about how keynote motivational speakers like these can impact your event, contact Eagles Talent Speakers Bureau at 1.800.345.5607.
—————————————————————————————————————————-
6. Mallory Brown
Mallory inspires attendees with her "Just Go" presentation developed from traveling through remote parts of the world for humanitarian causes. Mallory is a successful social entrepreneur, worldwide adventure traveler, and humanitarian with apparel company on a mission to clothe the world!
7. Stephanie Decker
Stephanie shares her story of survival and sacrifice with audiences, to provide inspiration and motivation. She helps them discover their inner hero, as well as recognize the everyday heroes in life. She was featured in Successful Meetings list of Most Reliable Keynote Speakers who surpass expectations. She was also named as a L'Oreal "Women of Worth" Honoree and nominated for the 2015 Betty Jane France Humanitarian Award for her foundation work.
8. Janine Shepherd
Janine's story of defying the odds and winning is both moving and inspiring. After being run over by a truck during a training bicycle ride, her Olympic dreams were crushed. Doctors said she would never walk again or have children, but she pushed her body to mend itself, forced her legs to walk again. She even has three amazing children. Janine is one of the world's most sought after inspirational speakers because her story of incredible courage and strength, captivates audiences.
9. Dr. Todd Dewett
Dr. Dewett is the world's leading authenticity expert, and a two-time global best seller and the go-to leadership expert for millions! His leadership and life insights have been featured in the New York Times, TIME Magazine, Forbes, BusinessWeek, US News & World Report, CNN and many more.
10. Matthew Schrier
A freelance photographer who escaped his Al Qaeda captives in Syria — after being held for over seven months! Matthew's speaking program is insightful, thought provoking, and authentic. He helps an audience understand the mindset of his captures, as well as tactics he used to survive the ordeal.
—————————————————————————————————————————-
For more information about how keynote motivational speakers like these can impact your event, contact Eagles Talent Speakers Bureau at 1.800.345.5607.
—————————————————————————————————————————-