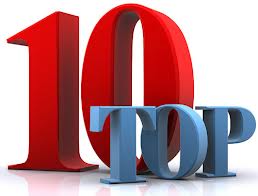 August is Audio Appreciation month, and we honor it with a Top Ten list of interview audio bits from our most inspiring speakers. These SoundCloud clips help us appreciate audio, as these Inspirational speakers intrigue and enchant us by providing key tools and background knowledge into their remarkable success.
Mark Thompson is the CEO and cofounder of Virgin Unite Mentors, Sir Richard Branson's network for executive coaching and entrepreneurial innovation and is a Founding Patron of Virgin Unite's Entrepreneurship Centre. Mark shares insights and videos from world-class companies that at first struggled with change and then reinvented their business. 
As a former CNN Hero, Robyn Benincasa brings her unique and inspiring perspective on teamwork to the corporate world while sharing her amazing stories as a world champion adventurer. She advocates helping women who've endured medical setbacks by encouraging survivors not just to survive, but to thrive in the wake of their illness.
John C. Havens is an acclaimed author of the book Hacking H(app)iness and international thought leader who stands at the intersection of technology and happiness. He guides business leaders, and organizations to understand the value and meaning of both profit and purpose. John has been featured on respected programs such as C-SPAN's Communicators, Leonard Lopate Show, Huffington Post Live for his expertise and insight on data, technology, and happiness.
4. Ana Navarro
Ana Navarro served as the National Co-Chair of Senator John McCain's Hispanic Advisory Council and was a national surrogate for Senator McCain's 2008 presidential campaign. She speaks on trending topics from a perspective of a media personality, helping to give your audience unique insight. 
5. Vince Papale
A middle school teacher and part-time bartender, Vince Papale made the Philadelphia Eagles at age 30 and became the oldest non-kicker rookie in NFL history. Papale's inspirational achievements are depicted in the movie Invincible starring Mark Wahlberg. He inspires audiences with his energy, enthusiasm and story of persistence and following your dreams.
Using her own story, Stephanie Decker provides the inspiration and motivational tips your team needs to take on new challenges. She helps you discover your inner hero, as well as recognize the everyday heroes all around us. She shares how humor, teamwork, and setting goals can be used to overcome any obstacle.
Twenty-eight year old David Trumble is an international award-winning cartoonist, author and illustrator, who rose to critical acclaim at the age of 21 as the youngest political cartoonist to work at the Sun Newspaper. As an international speaker who uses humor, insight, and sincerity, David relates, as an artist, to the struggles individuals and organizations go through to be successful. In his presentation, he incorporates both a keynote and artwork that is customized for his audience. 
8. Zubin Damania
Under the pseudonym ZDoggMD, Zubin Damania's YouTube videos have gone viral with with over 1.5 million views, educating patients and providers, while satirizing the healthcare system. He shows audiences how powerful the combination of passion creativity and persistence can be. And of course, his talks brim with the same comedic spin that keep the Youtube viewers coming back. 
9. Talia Leman
Talia Leman is the CEO and a Founder of RandomKid. She develops ideas, strategies and networks between kids internationally to increase their impact. Talia Leman shows us how to make room for life's surprises, demonstrating that everyone has what it takes to make a remarkable difference for anything that matters to them. 
10. Laura Schwartz
Laura Schwartz climbed her way up the ranks of President Clinton's Administration as the Midwest Press Secretary, Director of Television and, ultimately, Director of Events, where she produced the President's events on the world stage. In Laura's book, Eat, Drink and Succeed, Laura shares her secrets to success, revealing essential networking tools that will increase sales, productivity and leadership, and propel you to the next level in business and beyond.