With the 2016 Summer Olympics in Rio de Janeiro just around the corner, it makes sense to highlight some of the most influential Olympic Speakers today who were also incredible Olympic athletes.
1. Jim Craig is not only known as the goalie for the 1980 USA Olympic Hockey Team, but also as its passion and heart that helped orchestrate the "Miracle on Ice" over the Soviet Union's national team. Hockey fans as well as sports fans worldwide had the privilege of watching him and his team's epic performance during that year's Winter Olympics in Lake Placid, New York. Against all odds, he and his teammates brought home the gold medal. Today, he helps organizations develop team-oriented environments by using lessons from his life and hockey career.
2. Craig's teammate and leader Mike Eruzione served as the team's captain by encouraging and inspiring his men to play their best and their hardest. His clutch performance ensured his team's "miracle" as he scored what would be the winning goal against the Soviet Union's team, which was heavily favored to win the gold medal. Eruzione is an expert on how to successfully take on challenges and how hard work truly pays off.
3. Heather Mitts is currently a FOX studio analyst for the FIFA Women's World Cup. She also owns three Olympic gold medals from playing for the U.S. Women's National Team in 2004, 2008, and 2012. She is one of only three female soccer players to have won gold three times. Mitts also played in professional women's leagues and has established an impressive broadcasting career for FOX, ESPN, and even the SEC Network. Her story of success and international achievement dazzles audiences everywhere.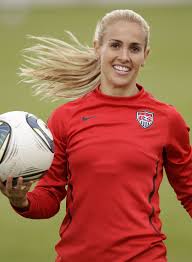 4. Mike Schlappi is a decorated Paralympic wheelchair basketball star. He has won four Paralympic medals and is the first American wheelchair basketball player to appear on four straight Paralympic teams. After being shot in the chest and left paralyzed, Schlappi was determined to show the world that he could persevere and live a high-quality life. He continues to do so while sharing his story on his speaking tours.
5. Former gymnast and current sports broadcaster Tim Daggett not only won the gold medal, but also the hearts of millions during the 1984 Summer Olympics in Los Angeles. By earning a perfect score of "10" in the high bar event, Daggett delighted all who watched him, especially his American audience as he won gold in his home country. Unfortunately, he severely broke his left leg in 1987. He could not compete and was even in danger of losing his leg. Fortunately, he worked through his setback and began competing again. Today, he is an NBC Sports broadcaster, author of Dare to Dream, and a business owner who also coaches gymnastics. His life experiences and knowledge in not giving up make him a tremendous leader with excellent character.
6. As the ninth Captain of the U.S. Women's National Soccer Team (2008 – 2015), Christie Rampone is the longest-serving captain in the team's history and its only player to have won two Women's World Cup Championships (1999, 2015).  Her career of over 18 years has made her an excellent motivator and leader while she demonstrates these talents to all the organizations she visits.
7. Three-time Olympic freestyle skier Emily Cook is the face of perseverance. After breaking both feet and sitting out of what would have been her first Olympic Games in 2002, Cook began rehabbing and trained intensely to make her skiing comeback. She went on to compete in the 2006, 2010, and 2014 Winter Olympics held in Italy, Vancouver, and Sochi respectively. Her passion and commitment to breaking down obstacles and achieving her highest potential inspires others to do the same.
8. As leader of the 1984 Summer Olympics men's gymnastics team, Mitch Gaylord brought his team the gold medal while becoming the first American Gymnast in history to score a Perfect "10." He also won a silver medal for Vaulting and two bronze medals for Rings and Parallel Bars. After the Olympics, President Ronald Reagan appointed Gaylord to the President's Council for Physical Fitness and remained there under President George Bush, Senior as well. He also appeared in the movie, "American Anthem" as well as in numerous commercials for Diet Coke and Nike among other brands. As a master in motivation, Gaylord has been working with and inspiring organizations for over 30 years.
9. The career of soccer analyst Angela Hucles started with her playing for the Boston Breakers during the inaugural seasons of both the Women's United Soccer Association (WUSA) in 2001 and with Women's Professional Soccer (WPS) in 2008. She also played for America's national team winning two Olympic gold medals in 2004 and 2008 while placing in third during her World Cup appearances in 2003 and 2007. Her love of helping others achieve their goals on and off the field make her an excellent speaker on leadership and overcoming adversity.
10. Olympic medalist Jessica Mendoza has been enjoying a marvelous career as a former softball player and an ESPN baseball analyst. Her accolades include a gold medal from the 2004 Summer Olympics in Athens, a silver medal from the 2008 Summer Olympics in Beijing, three World Championships and World Cup Championships, and five Stanford school records including batting average and career home runs. On June 16, 2015, Mendoza became the first female featured in ESPN's College World Series coverage. On August 24 of that year, she became the first female Analyst for ESPN's MLB coverage during an online Cardinals-Diamondbacks broadcast. She was also an analyst for Jake Arrieta's no-hitter as the Cubs beat the Dodgers during her Sunday Night Baseball debut later that same week. Finally, Mendoza analyzed the 2015 American League Wild Card Game, becoming the first female Analyst in MLB postseason history. Her remarkable career proves that despite all odds, one can come out victorious on the field, in the booth, and in life.