This guide was created by Eagles Talent Speakers Bureau with the purpose of providing you with the best practices and guidelines for leading, participating in, promoting or scheduling a virtual event. This is especially helpful if you are in the middle of finding a presenter for your event.
If you are new meeting professional (and in-house virtual event producer) you will find these tips helpful in creating an event that is focused on value for your attendees. If you a seasoned professional, some of items in this document can serve as a good reminder in crafting a great online experience for your organization. In addition to this guide, we also have a virtual section on our site that covers everything from types of events to tips.
Download the Virtual Event Best Practices Guide here.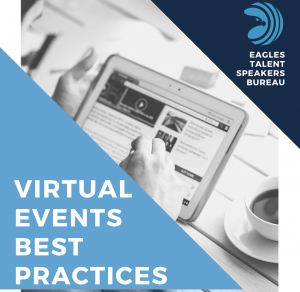 As you work on the technology part of your event, it will really come down to your presenters providing value. Whether you need to stream a keynote to inspire your team, want to hold a town hall for your community, or deep dive into a master class on a topic, we can help bring your virtual idea into reality.
There are thousands of speakers, breakout/workshop session presenters, trainers, athletes, celebrities, and entertainers who are available to appear at your online event.  We have worldwide contacts and access to any speaker.