Mallory Brown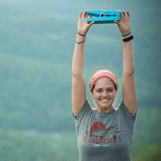 is an impact storyteller. She travels the world in order to help women and others that are impoverished. Her goal is to connect audiences with a worthy and noble cause in hopes they can help. Through her work, Mallory has managed to help thousands of people and inspire many more.
Mallory's latest YouTube video is the fourth installment of her "Walk-A-Mile" series: where she travels to 26 countries, to help 26 women with the help of 26 local charities to walk a mile in someone else's shoes and raise money for their community.
In her latest journey, Mallory traveled to Serbia and met up with Mirjana, a lady who lives in a Roma settlement in Belgrade, Serbia. Mallory is working with CWS a local charity to teach Roma women how to read.
Roma people, also referred to as "gypsies" are mistreated and persecuted. They are denied basic amenities and often fend for themselves, without jobs or an education. CWS is a charity that helps fund a program that teaches the Roma people how to read and complete tasks that are necessary to get employed.
CWS Global, with the help of local agencies, help fund education programs, raise donations, awareness, and improve the lives of impoverished working women and their families in the Roma community.
Watch Mallory's latest episode of Walk a Mile below:
Make a donation to Mallory's campaign today and fund a month of literacy classes for one woman!
Interested in booking Mallory Brown or any of our other speakers? Visit www.eaglestalent.com for more information.