Did you know…
Losing weight can greatly reduce your risk of getting heart disease?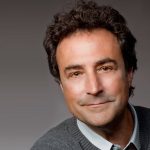 According to Dr. John La Puma, Weight loss helps your heart because it lowers your blood pressure and your blood lipids including triglycerides and LDL cholesterol; it helps you metabolize sugar more efficiently; it improves insulin sensitivity; and it reduces inflammation. And inflammation probably causes heart disease. 
As a leading expert and keynote speaker on the topic of health and wellness, Dr. John La Puma provides organizations and audiences alike with vital information to improve their lifestyle and overall wellbeing. Known by the Wall Street Journal as "a secret weapon…against heart disease and cholesterol,"Dr. La Puma continues to spread his wealth of advice to organizations, media channels, and anyone seeking to improve their lifestyles. Here are some of his programs:
Farm Not Pharma: Eat Yourself Well
How to eat yourself well with whole, unprocessed foods, avoid drugs and their side effects, and start your own medicinal garden.  Become literate about food and wine, and learn to live well.
What is Culinary Medicine? And How Can You Get It?
Dr. La Puma shows how to make it delicious, sustainable and affordable; features foods that work withing minutes in the body, and describes seven natural ways to lower blood pressure, cholesterol and triglycerides; and how to make your immune system function well with what you eat and how you live at any age.
Don't Ask Your Doctor About Low T
Dr. La Puma shows scientific data to show how men (and the women who love them) can improve fertility, raise testosterone and look and feel better naturally, without drugs or their side effects and cost.
For more information on booking Dr. John La Puma for one of your events, check out his page on our website or call our office at 1.800.345.5607.