It's time to countdown the Top 10 motivational speakers for conferences and conventions in 2015.  These professional speakers are inspiring newsmakers, professional athletes, and people who know a thing or two about success and overcoming adversity. This list is generated from Motivational Speakers who are trending with meeting and event planners, most requested, as well as the most booked.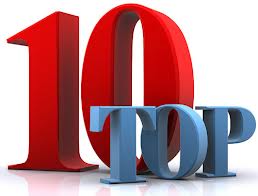 And here's the Top 10 list from Eagles Talent Speakers Bureau.
1) Stephanie Decker
Stephanie is a hero mom who lost both of her legs saving her children during a tornado. Her story reach far beyond as she inspires audiences to be limitless. Also, she was recently named a finalist in the L'Oreal Women of Worth for the work she does with her Stephanie Decker Foundation. Learn more about that here.

2) Barbara Corcoran
While many know her from the hit TV show Shark Tank, Barbara is a true entrepreneur and real estate mogul who provides the right spark of inspiration to an audience. 

3) Amelia Rose Earhart
Amelia Rose Earhart flew same flight plan that the original Amelia took. This legacy inspired Amelia Rose each day to chase and accomplish her own adventures. In her keynote, she encourages her audience to set goals and not give up on them.

4) Anne Mahlum
Anne M. Mahlum is a social entrepreneur who created the organization called Back on My Feet. It uses the power of running to change the way those experiencing homelessness see themselves so they can make real change in their lives. ​


5) Robyn Benincasa
Motivation! Inspirational! Leadership! Teamwork! … basically, everything.  

Who is the best keynote speaker for your group? Get your answer here. 

6) Archie Manning
He was a leader in the NFL huddle, father to two future Hall of Famers, and continues to score touchdowns with organizations on the platform.
[bitsontherun m55IazY1]
7) David Trumble
David is an award-winning artist, author, illustrator, and a new trending motivational speaker. He inspires audience by getting them to use their creativity and embrace the canvas of possibilities. 

8) Robert Fogarty
Fogarty's award winning keynote address and portrait shoot explores the subtle and powerful connections that link colleagues, clients, and staff around the world.

9) Bill Rancic
He got on the map via Donald Trump's first Apprentice. Now he's the picture for success in the dictionary.

10) Mark Thompson
Mark has worked with some of the top business people (such as Sir Richard Branson, Steve Jobs, and Charles Schwab), so he really understands engagement, passion, and success.


View additional top motivational speakers here. Is there one you're looking for? Let us know: [email protected]